The accomplishments of funding midwife-led research in Ontario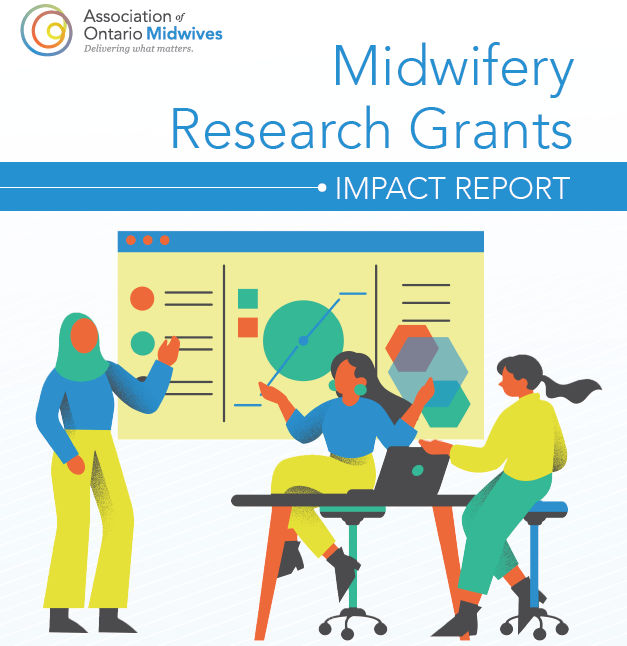 June 28, 2023
Midwife-led research is crucial to expanding and improving midwifery practice for midwives, midwifery clients and their families. Since 2017, the AOM has provided access to funds for midwife-led research initiatives in Ontario through the AOM Midwifery Research Grant Program.
Since launching the program in 2017, the AOM has granted over $466,000 to midwife researchers and funded 26 research projects, ranging in topic and methodology. Midwives can now view the many accomplishments of this program in the new Midwifery Research Grants Impact Report.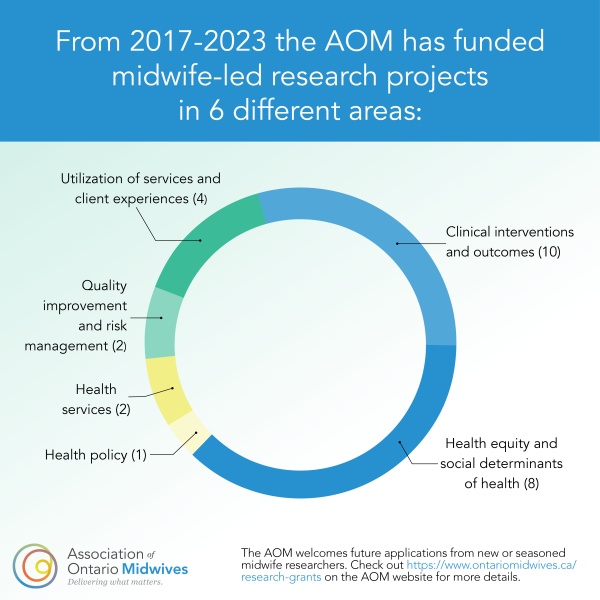 Guiding the review process for grant applications is the Midwifery Research Work Group (MRWG), a diverse group of midwives with experience and interest in midwife-led research and a midwifery research agenda, currently chaired by Kirsty Bourret.
"Midwife researchers are key to the sustainability of the profession, as they bring essential perspectives and use a diverse range of methodologies to address important knowledge and policy gaps such as the impacts of colonialism and racism within the profession. Despite its critical importance, there continues to be a lack of opportunities for capacity building, postgraduation education, funding and maintaining research activity for midwives. The Midwifery Research Work Group's aim is to provide a space to grow and support midwives in research. Along with our ongoing commitment to foster an enabling space for the voices and inquiries of Indigenous, Black and racialized midwives, our objective is that over time midwife-led research will lead to less inequities within and outside the profession."
– Kirsty Bourret, RM, BHSc, PhD, (she/her), Chair of the MRWG
Research applications are now being accepted for the 2024 grant year!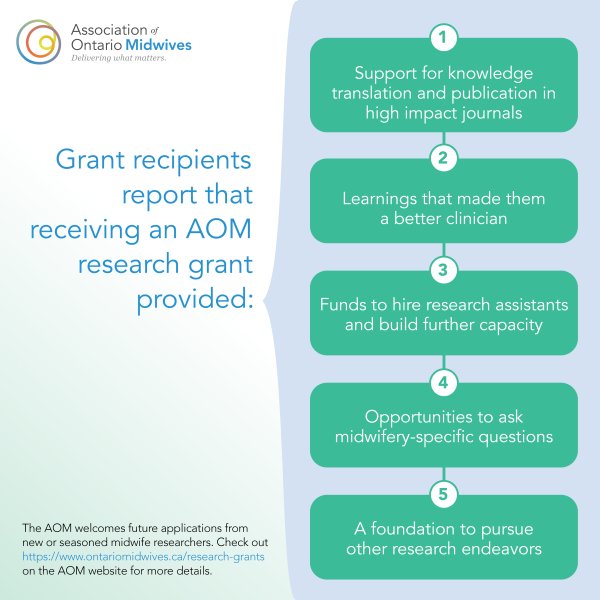 Midwives or midwifery students with an academic or research affiliation with an educational or community-based organization (e.g. university, college, Indigenous educational institute, hospital) in Ontario are eligible to apply for midwifery grants. Prior research experience is not required; we welcome new researchers!
We also welcome and encourage applications from individuals who reflect the broad diversity of our community including Indigenous, Black and racialized midwives.
Interested applicants can submit their Notice of Intent by September 25, 2023. Further details on how to apply including complete application instructions and forms can be found on the Midwifery Research Grants page.