In the face of the pandemic, midwives adapt, respond, persist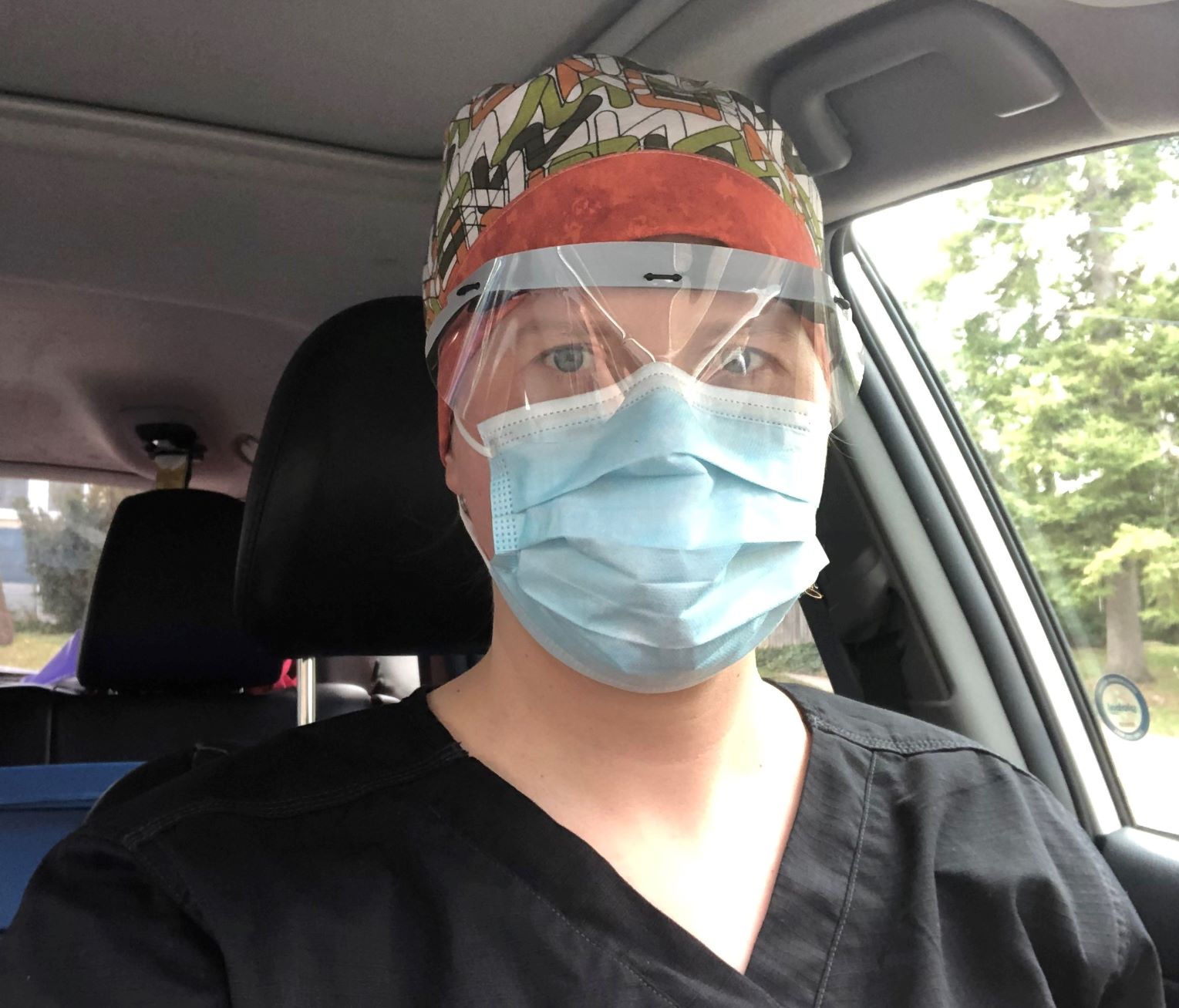 May 29, 2020
While so many life events have been postponed as a result of the global COVID-19 pandemic, babies continue to be born around the clock, making perinatal care an essential service that cannot be put on pause. But it's not business as usual for midwives in Ontario, who continue to provide primary care through pregnancy, labour and the postpartum during the pandemic. From changes in clinical practice to modifications of their clinic spaces, midwifery practice groups (MPGs) have had to adapt very quickly, and continually, to the rapidly evolving global emergency – all while providing on-call services 24 hours a day to their increasingly anxious clients.
Speaking to AOM members last month during one of the AOM's regular COVID-19 webinars, midwife Ali McCallum describes how her practice group, Family Midwifery Care of Guelph, had to act swiftly in response to public health advisories and their own circumstances which seemed to change overnight.
"When this all started, we had three midwives out of the country travelling, and they were trying to come home," McCallum recalls. "And then of course we had a birth storm right as [the COVID-19 pandemic] was kind of ramping up. So soon after that birth storm week, we had 3 midwives in quarantine for 14 days from travel, and then we had 3 midwives with symptoms who got swabbed [for COVID-19]. So right at the very beginning we were down 6 of 13 midwives at our practice. Soon after that, [an] outbreak at our hospital was declared."
McCallum herself had been one of the midwives on call in early March during that busy week of births and postpartum visits. The following week, in response to 4 staff members at Guelph General Hospital testing positive for COVID-19, she and the other midwives were instructed to self-monitor for symptoms, including taking their own temperatures every 12 hours for the next 14 days.
"Of course this was really scary," McCallum explains, "especially given that we did have midwives off sick at that time. So all of us who had been in the hospital were paying great attention to any symptom that we might have."
It's exhausting, and it's really emotional,[...] that first week realizing that we had all of us potentially been exposed and some were symptomatic waiting for swabs. Thinking about our mortality and bringing things home to our families… It was really heavy and intense.
With a reduced number of midwives on call and the added stress of worrying about their own health, McCallum and her colleagues also found themselves balancing their regular midwifery work with the additional demands introduced by the COVID-19 pandemic. This experience is echoed by midwifery practice groups across Ontario, who are working harder than ever to continue to provide vital care to families during a time of increased stress and vulnerability. New information and guidelines require consistent monitoring to ensure prompt updates to policies and clinical practice. Adjustments to clinical visit schedules, supportive staff duties, and midwives' call schedules, as well as the procurement of personal protective gear and cleaning supplies in the context of a global shortage, all require additional administrative work. Regular communication with clients is needed to keep them informed of rapidly changing policies and recommendations. Clients, understandably, continue to have many questions and concerns, resulting in a marked increase in calls, emails and pages.
All the while, of course, the babies keep coming.
According to McCallum, her team of midwives has been great about supporting one another, but the many hours of meetings and the effort required to keep up with the emerging evidence and protocols remains a big challenge.
"It's exhausting, and it's really emotional," McCallum asserts. "And then the fear for our safety, you know, that first week realizing that we had all of us potentially been exposed and some were symptomatic waiting for swabs. Thinking about our mortality and bringing things home to our families… It was really heavy and intense."
Midwives are among the many professionals who are working on the front line during the pandemic, risking their own and their families' health to ensure that other families have access to essential care. In addition to caring for their own clients, in many communities midwives have also responded to a need for home care for physicians' patients who have tested positive for COVID-19, allowing these families to isolate at home while still receiving vital postpartum and newborn care.
On April 25, 2020, the Ontario government announced pandemic pay for frontline workers helping to fight the spread of COVID-19. However, midwives and their support staff, as well as several other groups of frontline health workers, have been inexplicably excluded from the list of workers identified to receive this additional pay. Despite tremendous advocacy efforts from the AOM and an outpouring of support from thousands across the province, on May 28, 2020 the AOM received word from the government that the list of pandemic pay recipients will not be expanded further.
Ontario Midwives continue to adapt as the global pandemic continues. Midwifery clients, too, have had to adjust to changes, such as the integration of virtual clinic visits and revised hospital policies on labour support persons. "Luckily our clients have been very understanding," McCallum adds. For McCallum and her team, spending full days in personal protective equipment has become the new normal, but core elements of midwifery care have not changed. If anything, the continuation of home visits, breast/chestfeeding support, 24-hour pager access and the option to choose where to give birth have only increased in value to families and the health care system at large, allowing new parents and their babies to stay home while continuing to receive vital care and support.