Highlighting the contributions of Black Midwives
Spotlight on Black Midwives 
Althea Jones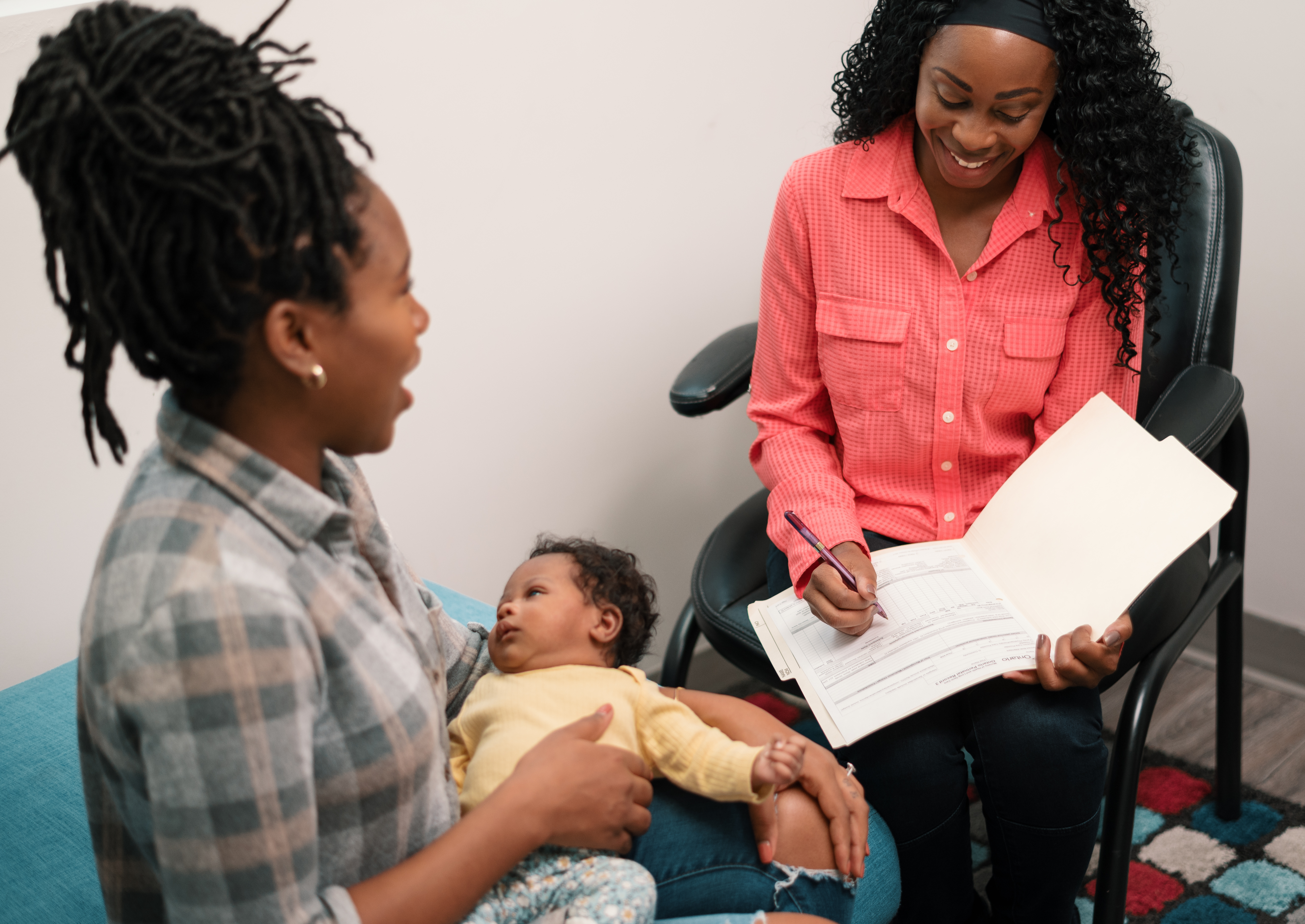 Althea Jones is a registered midwife, girl mom and founder of  Ancestral Hands Midwives (AHM), a non-profit organization focused on improving Black maternal health. Althea started Ancestral Hands to address health disparities facing Black birthing people and to increase awareness of midwifery care in her community. In recognizing that there is a lack of comprehensive, culturally congruent maternity care for Black women and people AHM aims to focus on increasing access to midwifery care, education and empowerment and improve outcomes and experiences for Black folks throughout their perinatal journey. 
Although yet to receive Ministry of Health funding, AHM is working hard to make an impact. AHM has created a Black health care provider directory and a Black focused prenatal class that will launch this year and is working to support Black midwives and students through community building and mentorship. Althea is inspired by the growing Black health care provider community in Canada and the amazing work of her fellow Black midwives and midwifery students. She hopes to see policy changes, research and funding that supports the prioritizing of Black maternal health and is thankful to those who are engaging in this important but difficult work.
Andrea Campbell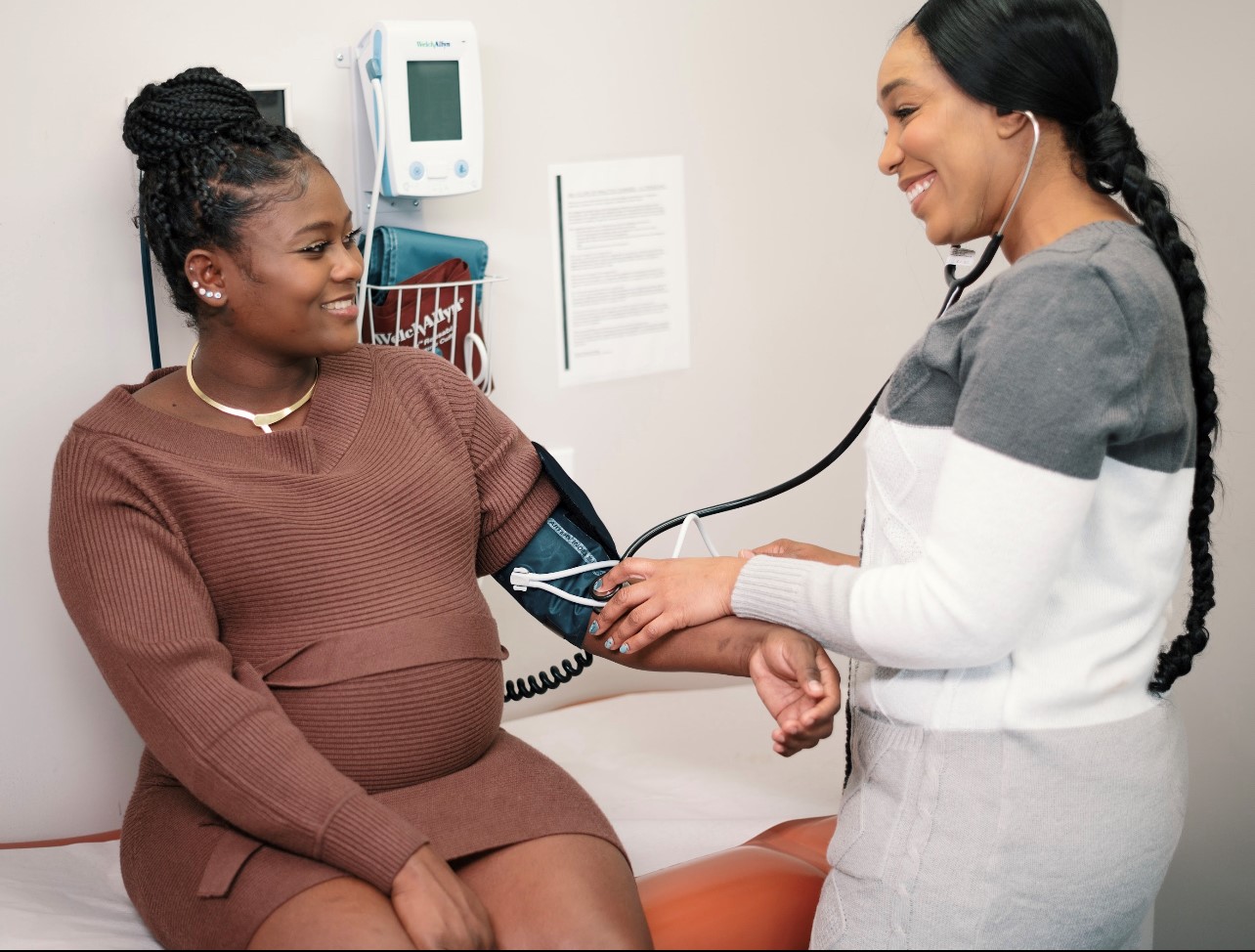 Andrea Campbell is a natural visionary and accomplished business leader. As the founding partner of New Life Midwives, she has grown the practice from two midwives to nine and has evolved the clinic from its humble beginnings to a thriving space that provides care to over 300 clients annually. Andrea is of Jamaican heritage and was born and raised in Scarborough, Ontario; her personal experience as a Black pregnant teen is what motivated her to pursue a career in Midwifery, and more importantly, focus on young families and under-serviced groups. Andrea graduated from Ryerson University's (since renamed Toronto Metropolitan University) Midwifery Education Program in 2007.  
 
Andrea's interests in advancing excellence in midwifery for racialized clients and providers has her involved in collaboration with Ancestral Hands, a collaborative, midwife-led prenatal & postpartum program serving the Black community in the GTA. She has mentored several midwifery students over her career and has identified herself and New Life Midwives as a placement opportunity for mentorship of Black midwifery students. Her colleagues and friends witness the many incredible ways that Andrea goes the distance to support racialized clients and creates a warm and welcoming space in our community and clinic. At the practice level, her focus on quality improvement encompasses identifying and leading initiatives that have been central to the evolution of New Life Midwives, namely, creating opportunities for improved working conditions that aim to support a just culture. She has fundamentally inspired and guided her practice partners and colleagues on their own journey of self reflection and anti-racist work. As a busy mother of 5 children, among many other things, Andrea also has the superhuman ability of maintaining a healthy work-life balance, all while radiating positivity and kindness.
Dione Amsterdam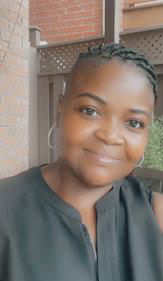 Dione Amsterdam is a trailblazer who has advanced innovation and excellence in midwifery, inspiring others and elevating the profession. Dione leads ethically, steadily, and quietly, providing solutions and always – always – believing that change is possible. She serves in numerous Ontario midwifery leadership roles, including on the Board of Directors for the Association of Ontario Midwives and the Toronto Birth Centre, as an Assessor at the College of Midwives of Ontario, and as an Emergency Skills Workshop instructor. As a practice partner, Dione always guides the practice towards positive changes by leading with care, integrity, and exceptional skill; recently, she has been stewarding the practice's anti-racism and equity work and leading the management of challenging pandemic-related staffing changes.
Dione is committed to ongoing advocacy and empowerment of her clients to help improve their birth outcomes. She has never wavered in pursuing equitable and excellent care for all, and particularly for racialized and uninsured clients, despite having been the only Black staff midwife at St. Michael's Hospital from 2007-2021. Dione's role in advocacy within the hospital environment has been steadfast and has reached all levels of leadership at Unity Health where she works as a Midwife. In collaboration with other Black staff, Dione's insights and contributions have been fundamental in leading the way for systemic improvements for Black staff, learners, patients, and midwifery clients at Unity Health. Dione is a reliable and strong leader within the profession who always seeks reflection with all members, and goes out of her way to find solutions to support their growth and development, whether it be as a mentor, colleague, partner, or employer. Dione's love for teaching and advocacy is always present in her roles as clinical preceptor and mentor of Black midwifery students.
What truly sets Dione apart is her incredible spirit of generosity. It's what she brings – energy, ideas, answers, and questions – and how she consistently shows up with her whole self, sharing her time, energy, experience, perspectives, and ideas to support the midwifery practice and the clients it serves. In the words of one colleague,
"It's dropping into clinic on a Tuesday and hearing her share a big laugh with her clients behind the clinic door. And it makes me especially happy because so many times it's a Black client, and I get to see her uplifting her community any chance she gets. She reminds me that pregnancy and birth (and midwifery care in general) can be joyful – not only that we can have fun, but we can create a space for our clients in which they can feel seen, celebrated, and happy to come to. When I'm feeling down about something, Dione always brings me up…[S]he's one of those quiet everyday heroes, for both her clients and her colleagues."
Dione's combination of exceptional clinical skills, logical thinking, effective leadership, and immense humanity make her an inspiration to all those who have the honour and privilege of getting to share time and space with her. Dione's commitment to excellence in care, advocacy, uplifting, and leading with joy, is an exemplar from which the entire midwifery profession can learn. We are lucky to have Dione – her contributions to her community and the profession will have a lasting impact through generations.
Natasha Singleton-Bassaragh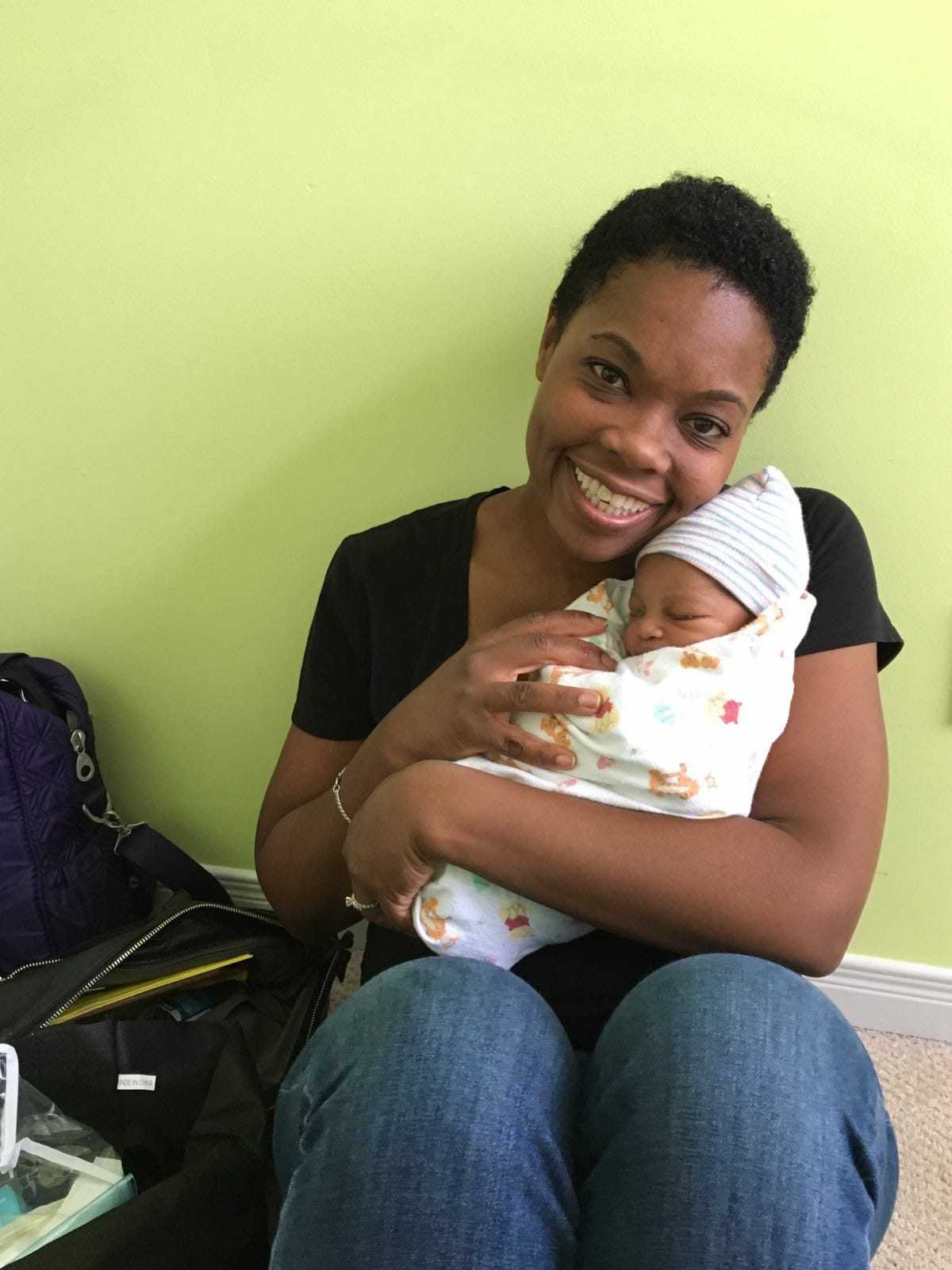 Natasha is a selfless, caring, and compassionate person who prioritizes others before herself. As a midwife she was able to connect with her clients in ways that validated their experiences and centered their care. Her openness, and ability to listen made her clients feel heard and seen. As a colleague, Natasha modelled humility daily and aimed to build community with those around her. Despite a shift in her career's trajectory, Natasha has persevered and found several ways to continue to give back and stay connected with the profession provincially and nationally.
With a goal of keeping skilled and dedicated midwives in the profession, she works as an advocate for midwives who find themselves underemployed due to physical and/or mental ailments.  As an AOM board member her advocacy continues for all midwives but especially for midwives living and working at the intersection of race and disability. She is also passionate about supporting Black midwives' and midwifery students' efforts to positively effect Black client care. Her dedication extends to co-leading the Canadian IBPOC peer review program, working with organizations such as Ancestral Hands and peer-to-peer mentorship. Natasha's contributions to Ontario midwifery also extends to engagement in research through editing manuscripts and participation in numerous studies. Her commitment and dedication to midwifery is boundless and she truly is a gift to this profession.
Nicole Waithe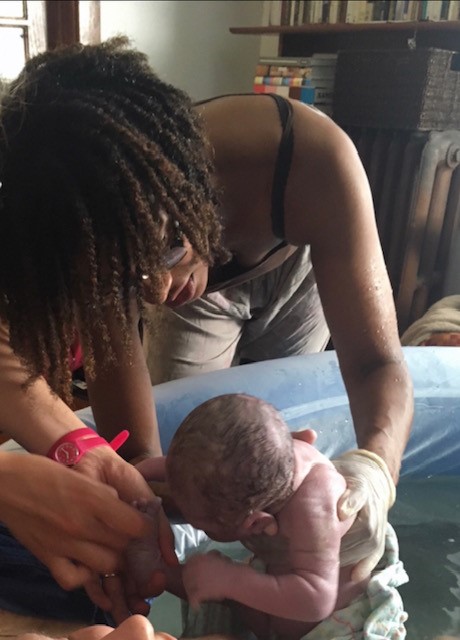 I would like to nominate my wonderful and beautiful colleague Nicole Waithe.
I first met (saw) Nicole 16 years ago when I was in my first week at the MEP and she came to talk about her experience of being an NR to all of us eager MEP students. I remember how poised and confident she was. I wanted to be like her! Years later, I was lucky enough to become her colleague. Nicole is the midwife we should all strive to be. She strongly believes in informed choice and her excellent, concise and clear communication style empowers clients and helps them make the right decisions for themselves. Her calm and wise demeanour not only helps clients feel safe, but also makes her an excellent colleague. Nicole is the person we all turn to when we need a rational person to see our way through emotion and the weeds of this work. She is not afraid of controversial issues and will speak the truth, always respectfully, to whomever needs to hear it. She is detail oriented-- if you are ever wondering if there is something you haven't thought about, just run it by Nicole, she will always notice what was missed. She is clinically strong and brave, and I learn something every time I attend a birth with her.
Over her 16 years in this profession, Nicole has also developed strong preceptor skills, particularly with students who have needed a fresh start in their clinical placements or extra guidance. Nicole has spent hours and hours working with students to help them get through the program, to become the best midwives they can be. This is quiet work of course, it happens behind the scenes and Nicole does not complain. She attends to all her work with a strong sense of duty and thoroughness.
I could write so much about Nicole, but what I would like to conclude with is just my gratitude for her presence in my life. I always feel better when she is around and I hope that she knows how deeply grateful we are for all that she has brought not only to our practice, but to the profession as a whole."
'Remi Ejiwunmi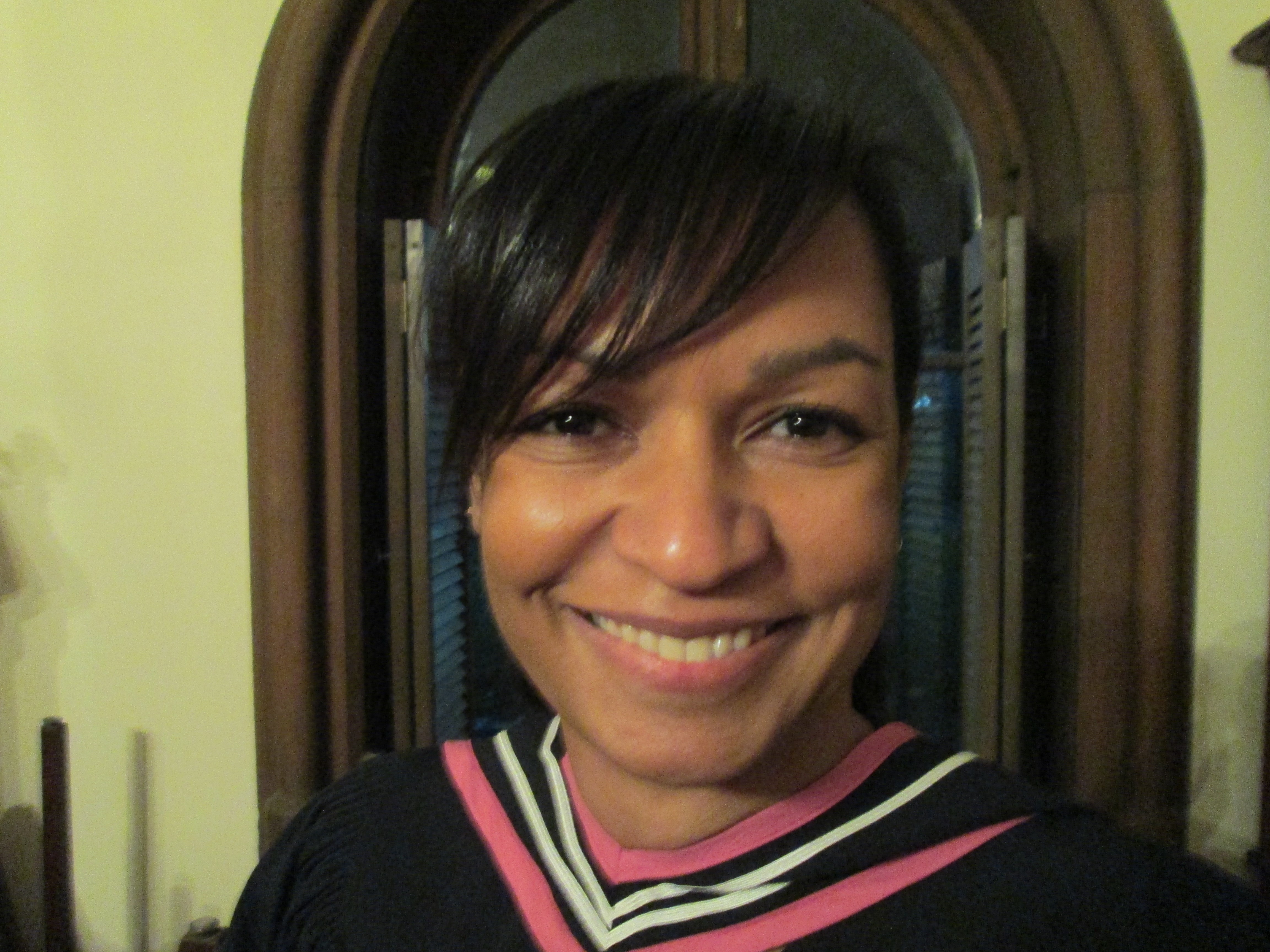 "If there's something strange, in your neighbourhood
who ya gonna call - 'Remi Ejiwunmi!
If there's something weird, labour don't look good
who ya gonna call - 'Remi Ejiwunmi!
After 27 years of practice, there is nothing this midwife has not seen, overcome and coached other midwives through - and we are so grateful to have the opportunity not only to midwife with her, but to know her.
Aderemi Ejiwunmi ('Remi) graduated from the first class of the MEP (McMaster University), and has been working in Mississauga and surrounding areas ever since. In that time, she has worked as President of the AOM, and was Head midwife at Trillium Health Partners for 19 years, playing a key role in establishing a supportive interdisciplinary team of care in which midwives are supported to practice to full scope.  The respect and confidence our obstetrical community has in 'Remi and the work she has done to integrate midwifery is evident in all our interactions, and is something that we her colleagues and all our clients benefit from every day. 
'Remi has the ability to approach problems from a practical and system level, often being the first person at the table working toward a solution. She completed a Masters of Science in Quality Improvement and Patient Safety from University of Toronto in 2013. She uses this knowledge and experience to support midwives to practice within a model that values active client participation, informed choice and satisfaction as well as reflective practice that supports midwives to explore the potential for improving quality of care and identifying risks without fear of blaming or shaming behaviours.
'Remi serves on HIROC's Board of Directors, the PCMCH Governing Council, and as Co-Chair of the BORN Midwifery Advisory Committee. She is also member of the AOM's Quality, Insurance and Risk Management Committee, and most recently Chair of the AOM's Midwifery Sustainability Project steering committee which is a multi-year, multi-pronged project to understand, make recommendations and advocate for, and evaluate the implementation of reforms to support sustainability of midwives and midwifery using an equity framework.
In addition to these committees and impressive things, 'Remi on a daily basis is a spectacular midwife, truly embodying the principles of informed choice and client-centred care - as anyone who has had the privilege of listening to her talk a client through a complicated ICD can attest. She has a wonderful ability to empathetically translate clinical knowledge for both clients and students, and many of her colleagues have availed themselves of her sound feedback and guidance over the years. 
It is easy to get caught up in this list of achievements, but to those of us who have the privilege of knowing her, they are only a part of what makes her such a special person. She approaches all of her life with the same passion as her work, impressively prioritizing her family amidst these demands. She is always quick to share a great movie recommendation or hilarious story, and makes killer soup for our practice soup swap. For years, we have marvelled at her ability to send very fast, long, comprehensive replies in email and whatsapp - but have recently learned her secret is voice-to-text, and we suspect this how she manages to get so much done.
But no-matter her methods, 'Remi is a shining star in our midwifery world; Of that there is no doubt. 
With gratitude and celebration of all that is 'Remi."
Shâdé Chatrath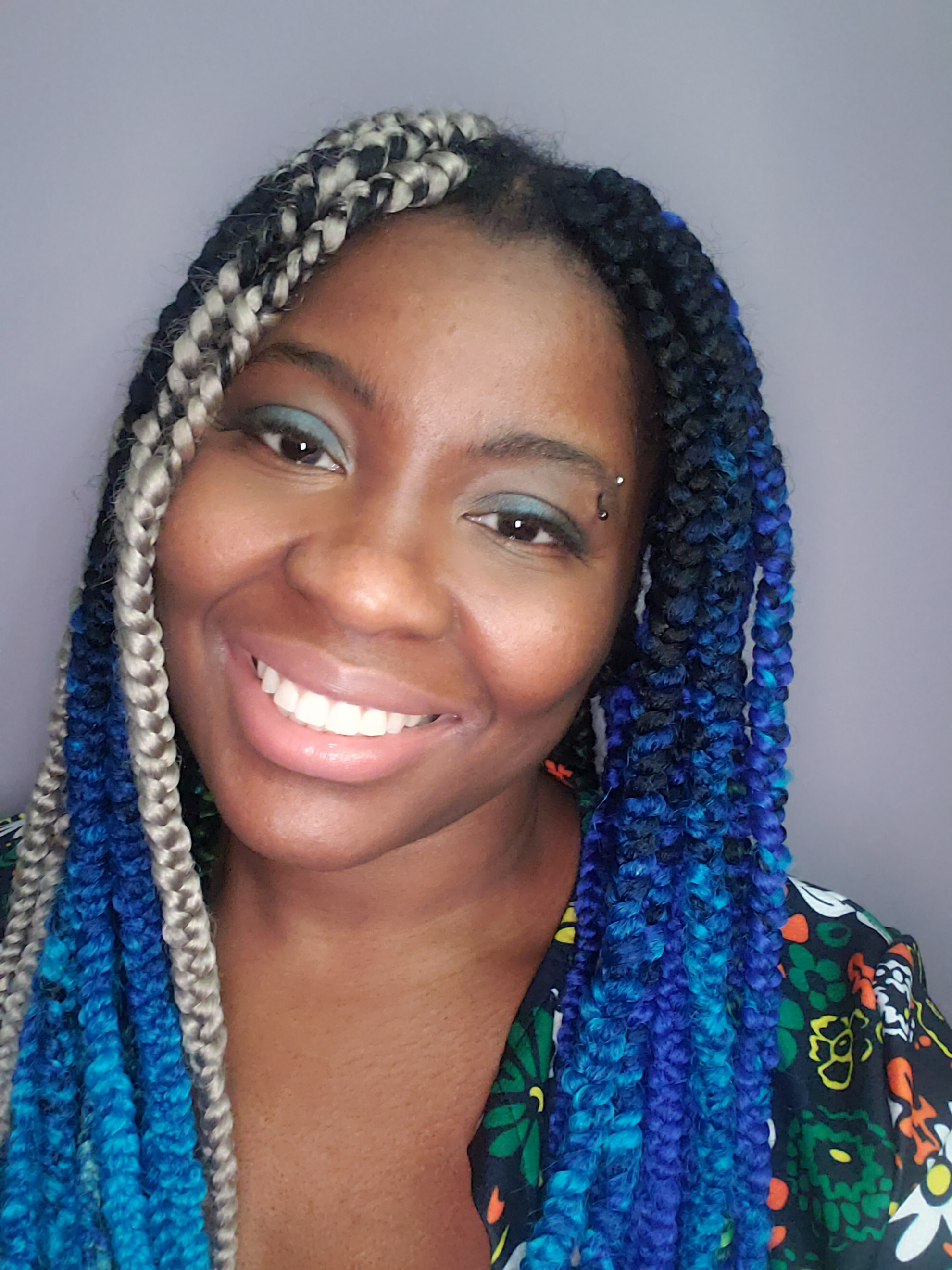 I have had the pleasure of knowing Shâdé since she was a student midwife many years ago. Even back then, she was a shining star, winning awards and balancing being a student while also having a young family.
Shâdé was hired by West End Midwives, a practice I co-founded, in her NR year more than a decade ago. Since that time, I have seen Shâdé flourish as a practicing midwife and member of our practice group. Shâdé is known to have boundless energy, infectious enthusiasm and passion for midwifery. She is beloved by the midwives she works with.
Beyond this I have seen Shâdé in a variety of roles from being an NR, to practice associate, to partner and now senior partner. She takes her role in the business and management aspect of MPG work very seriously. As a practice partner, she is known to be level headed, fair and often brings a unique perspective to the group.
Shâdé is now a senior partner at WEM and head midwife at Etobicoke General Hospital - William Osler Health System. It is in this role in particular where Shâdé has exemplified leadership. She has worked tireless and effectively in improving hospital relations and furthering midwifery scope and principles. In her spare time, Shâdé also does educational talks at Community Health Centres, and teaches Resuscitation courses such as NRP,  CPR, and psychological first aid to the public.
Shâdé has a strong commitment to community and is often requested as a Black midwife by clients. I have the pleasure of being at births with her when she serves these clients and see the passion she has for excellent midwifery care and advocacy when needed. 
Beyond this, she is family oriented, she is a cake maker, a baker, a foodie, a seamstress, a volleyball player and can dance anyone under the table (a tall order in the midwifery world).  
I cannot sing her praises enough. She is a midwifery treasure and is among only a handful of Black midwives with her years of experience and expertise.
Simone Griffith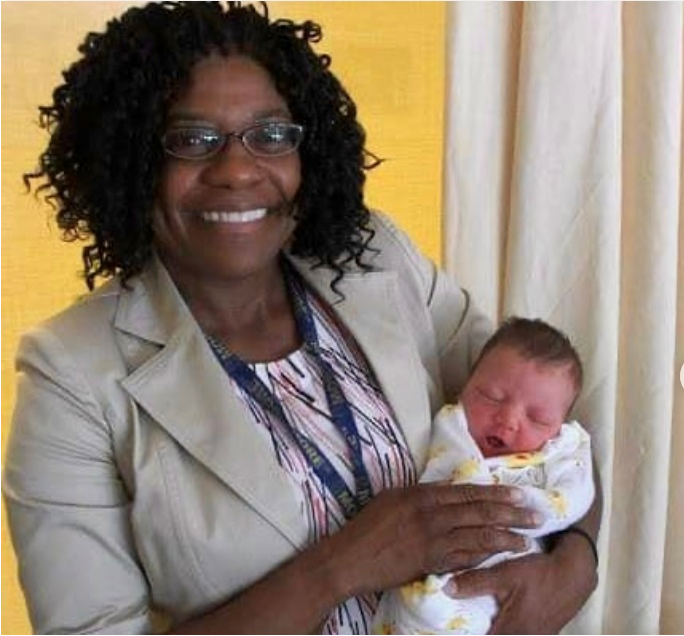 Simone is an excellent midwife with decades of experience and her intuition and knowledge in supporting our birthing clients is next level. She is always available for new midwives to consult with and provide guidance. I have appreciated her insight when I need support. Simone is always available as a fierce colleague , friend, and midwife to her clients when needed. 
Not only is she a community midwife but she is also a hospitalist midwife at McMaster. She also is a preceptor, guiding senior students in their last year of study. Our practice greatly benefits from her calls to engage midwives in conversations about race and diversity within our community. I know that she gives selflessly to her clients, supporting them through their pregnancies. Thank you for celebrating Simone!
Sojourner San Vincente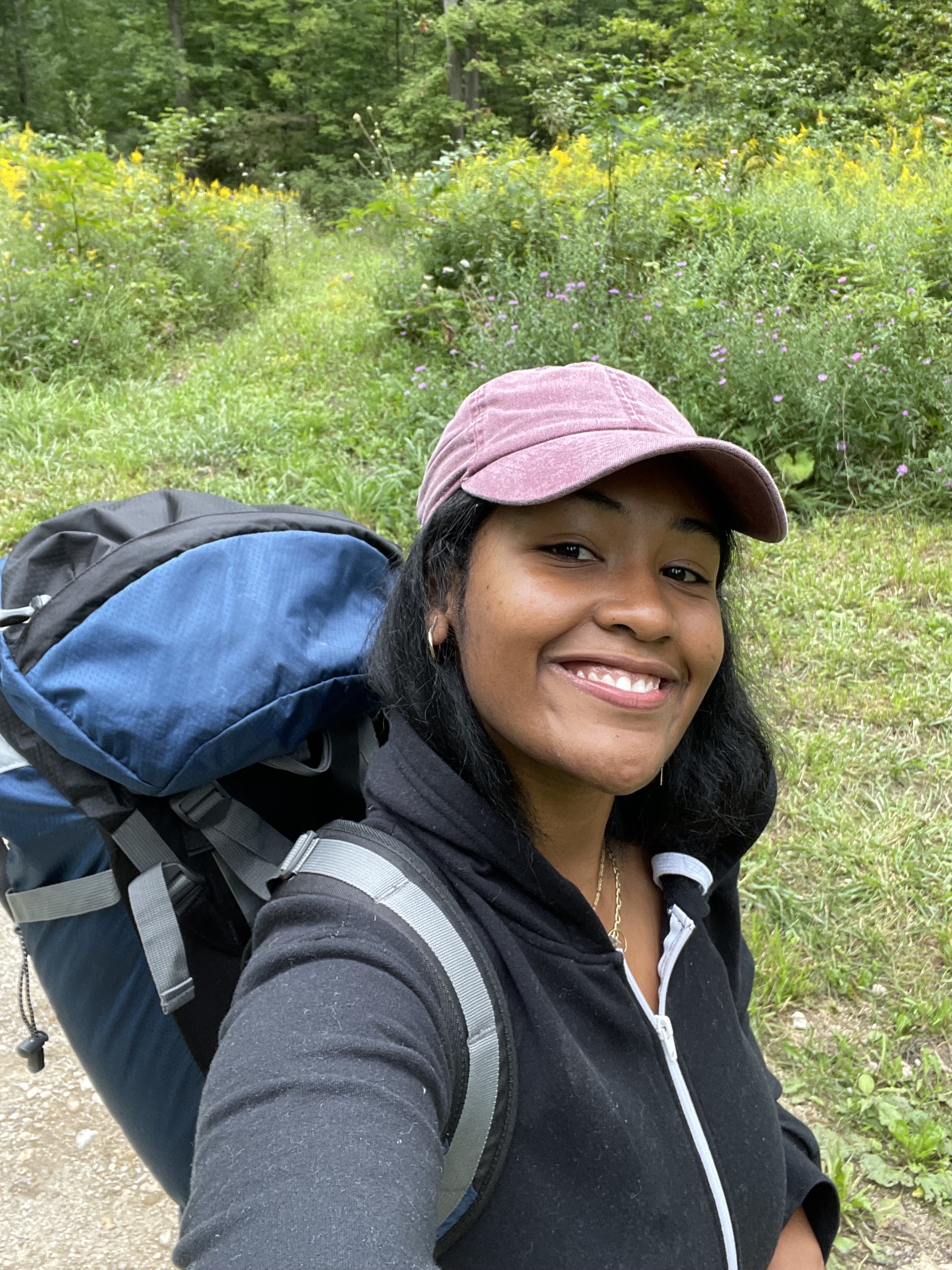 Sojourner is a newly registered midwife at Community Midwives of Toronto and is an active member of the anti-racism committee. She is deeply invested in promoting midwifery care to Black Canadians. She is the director and executive producer of Learn More: Ontario Midwifery (LMOM), which is a project created to raise the awareness of midwifery in Black communities, boost representation of Black midwives, students and birthing people. LMOM is funded by the TMU Library DME Creators Grant, TMU Student Life and Learning Support Student Initiative Fund, and TMU's Faculty of Community Services, and features a series of short videos that aim to demystify some of the myths and misconceptions about midwifery care in Ontario. LMOM has recently been presented at St. Michael's Hospital Grand Rounds for Black History Month. Sojourner also is one of the communications and media research assistants for the Colour of Birth, a multimedia research project which uncovers the untold history of racialized and immigrant midwives in Canada. In 2021, she was the recipient of the Viola Desmond Award through TMU, which celebrates positive role models and advocates of black communities in Canada. Furthermore, she is a regular participant in UofT's Summer Mentorship Program where she speaks with youth from marginalized communities who are interested in pursuing healthcare professions.
Sojourner is the author of "In the Spirit of Confronting Anti-Black Racism and Therefore, in the Spirit of Love", a letter and call-out to the Midwifery Profession, urging action to allyship to address anti-Black violence and racism. This work is featured on the AOM website and listed as a reading that centres perspectives and lived experiences of Black midwives. Sojourner's contributions to the Midwifery community are inspirational. She leads with a love that is evident in every ounce of her being and we are so lucky to have her as part of the Midwifery community. She is a vibrant, driven, and generous individual who radiates joyful energy into her relationships with clients and colleagues. She is an outstanding person and colleague and we are fortunate to benefit from her uplifting positive spirit and energy. 
Trish Langley Frempong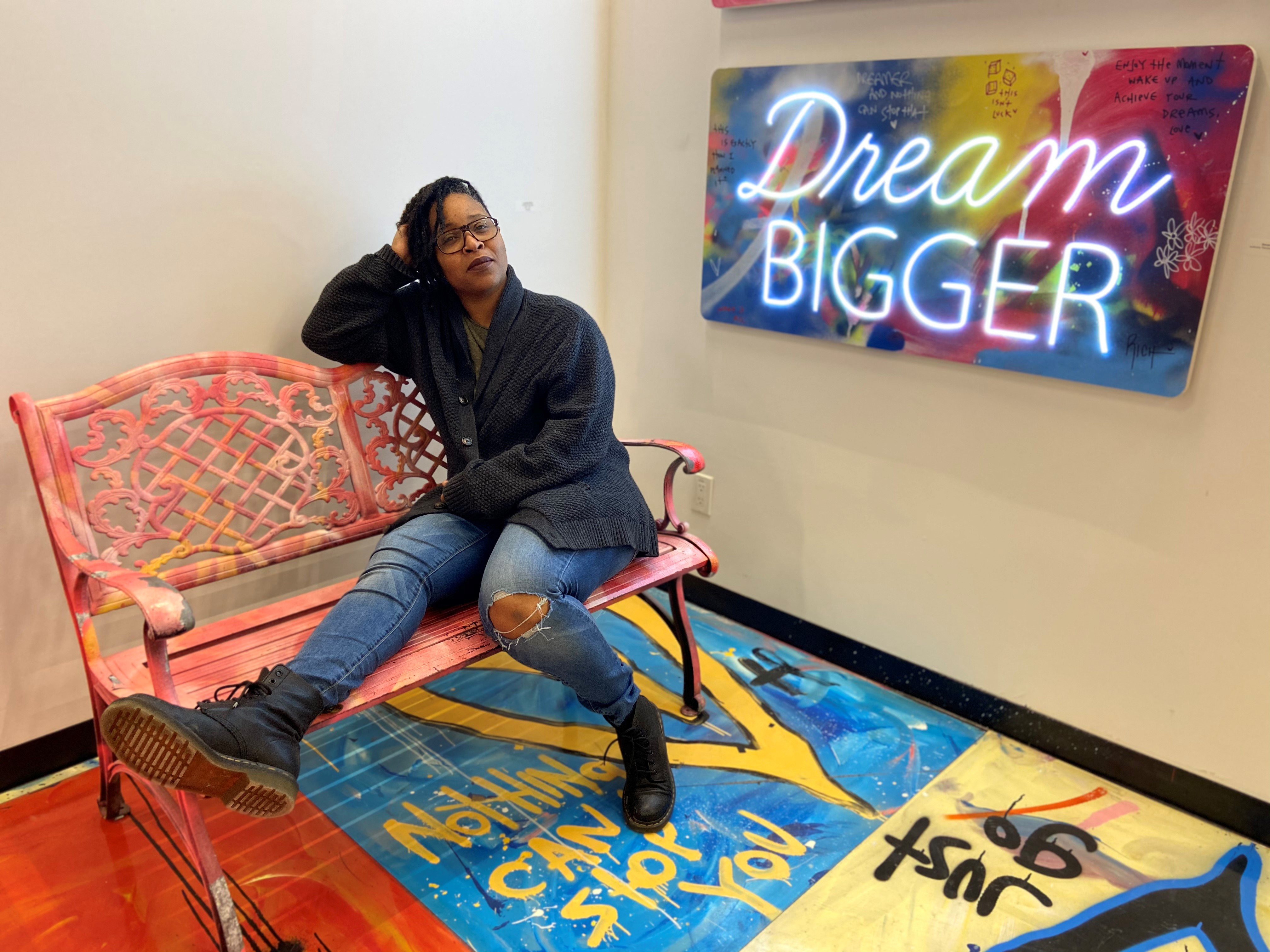 Trish Langley Frempong grew up in a family, and community where being of service and supporting others was commonplace. Whatever path Trish is on, she is determined to create a space for others to feel seen, safe and heard. This intention continues to guide her as she strives to ask questions and use her curiosity to find ways to understand and deconstruct the systems that cause harm. As someone who enjoys being part of the conversations and efforts that facilitate opportunities for shifts within the fabric of our society and within our profession more directly, Trish has actively participated on provincial and national platforms with a desire to participate in creating new frameworks that aid equitable learning, working environments and clinical care for those often overlooked and underserved within our institutions. Trish often ponders the landscape and environment of midwifery in Ontario and Canada that benefits midwifery students, the midwives and the clients and families we clinically support. Trish can be found participating on the Canadian Association of Midwives Board of Directors and on various AOM committees, all with the intention of championing our collective thriving, aiming to centre the voices and experiences of Black and racialized folk, knowing that we can co-create extraordinary things.
Share your story or that of other inspiring midwives and students here: Honoring Black History Month.