Ontario midwives deliver essential paramedic training in childbirth emergencies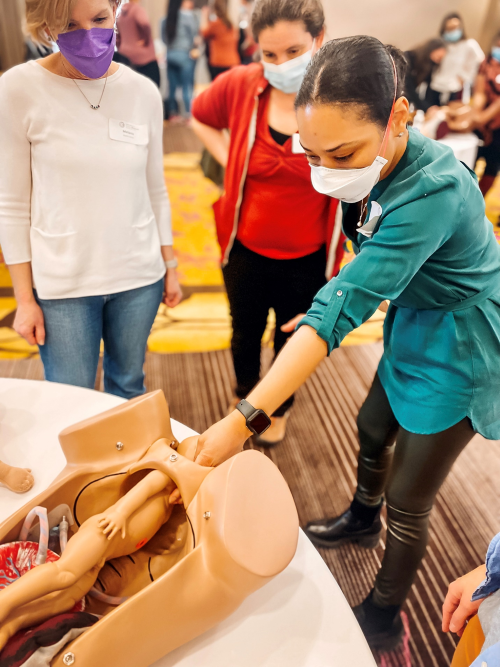 September 14, 2023
TORONTO, Sept. 14, 2023: Midwives are training paramedics across the province in childbirth emergencies to support safe out-of-hospital care for pregnant people when birth is imminent or urgent medical care is required prior to hospital transport. Midwives are the only regulated health-care professionals in Ontario who are specifically trained to attend births outside of the hospital, underscoring the invaluable role that midwives play in facilitating this subset of paramedic training.
The Association of Ontario Midwives (AOM), in partnership with the Ontario Base Hospital Group (OBHG), developed the Paramedic Emergency Skills Program (PESP) to provide continued medical education that reflects the evolving scope of paramedic practice. The program aligns with current provincial patient care standards and utilizes scenario-based learning and collaborative debriefing to deliver emergency childbirth training to paramedics.
"On rare occasions, childbirth is happening quickly, outside of the planned birth setting, and paramedics are the first on scene. The primary goal of the program is to provide paramedics with the knowledge, evidence-based practice and hands-on skills to identify and effectively manage emergency situations in a safe instructive learning environment," states Pamela Vazac, Registered Midwife, PESP instructor and Content Developer at the AOM. The PESP is an important pillar of paramedic education whereby midwives play a fundamental role to deliver specialized training specific to the scope of paramedic practice. The program aims to build confidence among paramedic colleagues in the management of childbirth emergencies.
At a recent PESP workshop, Tyler Belita-Clamohoy, Acting Superintendent of Education and Development with Toronto Paramedic Services, commented, "The PESP enhanced our participants' skill and confidence with the contemporary medical directives and standards related to obstetrics and emergency childbirth." Primary Care Paramedic Student, Shahram Kord, valued the experience of midwife instructors, stating, "It was a good first-hand experience to learn about things related to birth from professional individuals that have done the job for a long time. […] With the course, explanation, illustration and practice, I attained a better knowledge of delivery complications."
While fostering interprofessional collaboration, the PESP also facilitates an understanding of the midwifery profession and scope of practice. This aspect of the program serves to support midwives and paramedics who may find themselves working together in emergency situations.  
The PESP has been offered to thousands of paramedics province-wide, showcasing midwives' dedication to advancing interprofessional education. The program is one example of the pivotal role midwives play in supporting the health and well-being of childbearing families and the invaluable expertise midwives bring to the health-care sector.
For more information about the PESP, visit: https://www.ontariomidwives.ca/paramedic
-30-
AOM will arrange interviews on request. Contact Anna Ianovskaia, A/Manager, Policy and Communications, at anna.ianovskaia@aom.on.ca or (647) 865-0711.
About the Association of Ontario Midwives:
The AOM advances the clinical and professional practice of Indigenous and Registered midwives in Ontario with a vision of midwives leading decolonized and anti-racist reproductive, pregnancy, birth and newborn care. There are over 1000 midwives in Ontario, serving more than 250 communities across the province. Since midwifery became a regulated health profession in 1994, more than 250 000 babies have been born under midwifery care. For more information, visit: https://www.ontariomidwives.ca/midwifery-numbers