Overturning Roe v. Wade an assault on fundamental human rights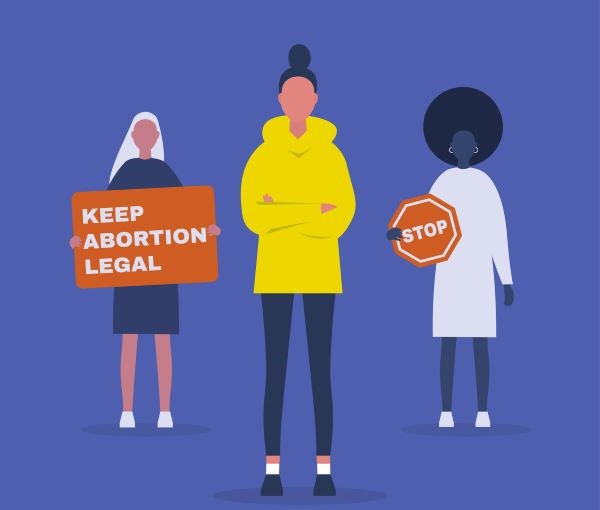 June 29, 2022
Calling on all governments to defend access to safe and quality abortion care, the Association of Ontario Midwives stands in solidarity with other health organizations from around the world who have signed a statement under the umbrella of the International Federation of Obstetrics and Gynecology (FIGO): "As organisations dedicated to providing and supporting health care, we know that restrictive laws do not reduce the need for abortion care. Rather, such laws increase inequities in access; nurture an environment of fear, stigmatisation and criminalisation; and put women, girls and pregnant people at risk."
The Supreme Court of the United States' decision to strike down Roe v. Wade is devastating. People with uteri have the right to make informed decisions about their reproductive health and be supported by evidence-based health-care policies. Policing and controlling the bodies of women, girls and trans men is a horrific abuse of state power with devastating impacts, especially for those who are Indigenous, Black and racialized. The systemic racism permeating health care will heighten the vulnerability of people who are more likely to die from a pregnancy-related cause. While some may be able to travel to obtain a safe, high-quality abortion, this will not be a viable option for many.
Abortion is still legal in Canada; however, a multitude of barriers exist, including lack of service in rural areas, poverty, ableism, heterosexism, cissexism and colonialism. As reproductive health providers, midwives have an important role to play in improving access to abortion care across Canada. In their Position Statement on Midwives' Provision of Abortion, the Canadian Association of Midwives recommends "the midwifery scope of practice includes the management of all forms of abortion, including spontaneous, incomplete, missed, and therapeutic abortions. Existing regulatory and funding barriers must be removed, and midwives must have access to all the means and education necessary to provide abortion care." In Carla Ciccone's recent article in Chatelaine, she asks the critical question 'Midwives can do more – why won't we let them?" and shares her personal story about navigating abortion care without continuity of care, a hallmark of midwifery. The events south of the border prompt critical reflection on the inequities of timely abortion access in Canada and how that may be rectified.
The AOM stands with the people who no longer have the constitutionally protected rights to make decisions about their bodies. We also stand with the health providers who are committed to providing safe and high-quality abortion care and the abortion advocates and activists fighting back.