President Elizabeth Brandeis - incredible time of change, progress and challenge for us as midwives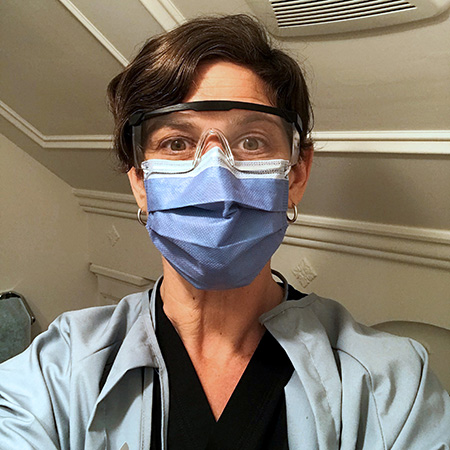 May 6, 2020
Dear Midwives,
This is not how I imagined saying goodbye. Nothing about this time is anything any of us could have imagined. And yet, here we are, carrying on, being resourceful, being resilient and being midwives during a global pandemic.
Thank you for giving me the opportunity to serve as your president for the last four years. It has been among my most rewarding and challenging roles. I have learned and grown more than I ever could have dreamed. And I have been humbled and awestruck by all of you.
These past four years have been an incredible time of change, progress and challenge for us as midwives and for our Association. Four years ago, we were starting our hearings at the Human Rights Tribunal. We needed to take that brave and bold step to defend and uphold our human rights. This process was set in motion by the fierce and visionary midwives who came before me. I feel grateful to have been able to play a role in it. Four years later we have made history, winning our precedent-setting case and establishing case law that is already being used to support others' fights for fair and equitable pay. We still have a long road ahead as we await the decision of Divisional Court and the implementation of the remedy, but I am confident that justice will prevail and we will see the day when we are finally paid and valued fairly.
At the same time, four years ago, we were at a stalemate with government around contract negotiations and working under an expired and inflexible contract. Eighteen months of meetings to "re-set the relationship" with government, and we had a new foundation from which to negotiate our 2017-2020 contract. While that contract did not close the gender pay gap for midwives, it did provide important new gains: funding for Indigenous midwives working under the exception clause in the Midwifery Act and funding for midwives to work in new models. It also provided stability to practices through a multi-year budget process. We made progress but there is still plenty of work to do! Today, as our fight for fair pay continues in the courts, we have a new 3-year agreement that takes us to 2023. We now have contract language that firmly establishes the AOM's role in negotiating compensation for all models of care, ensuring midwives have a collective voice in advocating to government for funding, programs and services. Again, we have made some progress but there's still a long road ahead to having a fair and equitable negotiations process that includes a robust mechanism for addressing stalemates, such as arbitration. This work continues in the face of massive health transformation under the Ford government. It's a changing landscape that has not yet defined a clear space for midwifery. And, disappointingly yet unsurprisingly, midwives are misunderstood and overlooked for our vital contributions during this global crisis. Midwives deserve pandemic pay. Midwives deserve recognition and respect.
I am reflecting with tremendous gratitude on the opportunities I've had to contribute to the work addressing inequities within our profession, both in the ways imbalances of power and bullying play out in our practice groups as well as the impacts of racism in midwifery and the health system. I am incredibly proud of our board for taking proactive steps to make the board more representative of our membership. I am proud of the priority given in our strategic planning to the restoration and renewal of Indigenous midwifery and racial equity.  I am so impressed by the tireless dedication of the midwives and AOM staff who have moved this work forward. We are at the beginning of these exciting changes and I know midwives will rise to this challenge.
Midwives are change makers.  We speak out, organize, litigate and rally against injustice. Midwives see problems and find solutions. Midwives are heroes. The respectful, client and family centred care we provide changes the world. Unsurprisingly, midwifery in a pandemic takes our hero-status to the next level. Adapting and changing so quickly is true midwifery magic in action.
Thank you to the incredibly talented and committed AOM staff for supporting me in this role and for supporting all midwives in the hard and important work we do; the intrepid board members who have had my back, asked great and difficult questions and demanded good process to get to the best outcomes; my practice, the Midwives Collective of Toronto, for cheering me on, holding me accountable and covering for me during meetings and meetings and meetings and meetings; and to each and every midwife for guiding the AOM and steering us in the right direction. And, of course, a special thank you to the last ones on the dance floor at every OMC.
Please, dear midwives, stay safe and stay well. We will get through this, and, like with every long labour, it will eventually end, and with that end, usher in a new beginning.
With love, gratitude and solidarity,
Elizabeth Brandeis, RM