Standing up for reproductive justice: Ontario Election 2022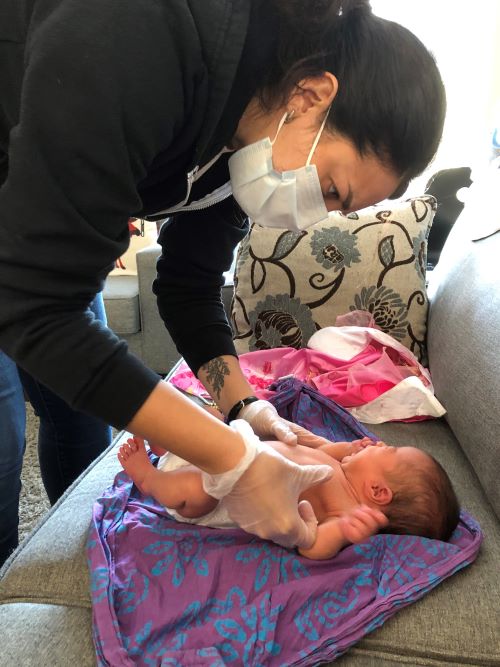 May 25, 2022
This election, the Association of Ontario Midwives is calling on all political party leaders to commit to the following priorities:
PRIORITY: Government invest in bringing birth home to First Nations, Inuit and Métis communities
ASK: Invest in the reclamation of Indigenous midwifery so that all First Nations, Inuit and Métis people and communities can access midwifery, especially in the Far North. For generations government has suppressed Indigenous midwifery, and First Nations, Inuit and Métis families have been denied access to culturally rooted and culturally specific care.
RATIONALE: Colonization and the medicalization of childbirth have shaped government policies that led to the removal of birth from First Nations, Inuit and Métis communities. Forcing pregnant people to travel great distances to give birth exposes them to systemic racism and isolates them from their circle of support, producing worse reproductive health outcomes than the Ontario average.[i] There are many First Nations, Inuit and Métis communities in Ontario that have not witnessed a birth in generations.
Our elected leaders can improve First Nations, Inuit and Métis reproductive outcomes by investing in Indigenous midwifery to meet the infrastructure, rural internet access, recruitment, retention, and education requirements to grow and sustain Indigenous midwifery. For decades Ontario has been evacuating healthy pregnant people to give birth at health centres in southern Ontario and it has been costly and devastating for families and communities. Bringing birth home to First Nations, Inuit and Métis communities is a critical component of reconciliation and achieving health equity.
PRIORITY: Government to (finally!) close the gender pay gap for midwives
ASK: Launch a gender equity action plan for midwives to prevent ongoing systemic gender discrimination. Create a sustainable health system and retain health-care providers by closing the gender pay gap – midwives shouldn't be paid less by government simply because their work is deeply associated with women.
RATIONALE: The government has continued to battle midwives in court since 2013, despite the Human Rights Tribunal of Ontario ruling in midwives' favour in 2017 that the government had suppressed midwives' earnings and bargaining because of systematic gender discrimination. The government continues to waste taxpayer dollars fighting midwives in a second appeal. Government should implement the recommendations in the Gender Based Analysis+ report they commissioned but have failed to act on, including creating a gender equity action plan.
PRIORITY: Government to prioritize reproductive health care
ASK: Be accountable for removing barriers and ensuring that midwives across the province can work within their full scope of practice preventing costly transfers of care. Update the Public Hospital Act to ensure midwives are not restricted unnecessarily and commit to advocating for the optimization of scope.[ii]
RATIONALE: The pandemic has highlighted the precarious impact of hospitals arbitrarily limiting midwives' scope of practice in the context of a health human resources crisis. Throughout the pandemic, midwives have worked on the frontlines taking care of families, caring for 18% of Ontario births. Already, only 4 out of 10 families who need a midwife can access one. The government needs to take immediate action to make midwifery more sustainable and ensure midwives can optimize their full scope.[iii] Pregnant Ontarians deserve the highest quality of care and a government who invests in their health care during one of the most transformative times in a family's life.
Ontario midwives are publicly funded primary health-care providers who provide around-the-clock, on-call care for clients through pregnancy, birth and the first six weeks after birth. Midwives provided care for 26 000 or 18% of Ontario births and offer choice of birthplace, including hospital, home and birth centres.
Across Ontario, Indigenous midwives are engaged in the profound work of returning birth to First Nations, Métis and Inuit communities. Some are working as Registered Midwives; others practice as community-governed Indigenous Midwives working within the Exemption (Aboriginal Midwives). Still, this means only 43 out of 133 First Nations communities[iv] have access to Indigenous midwifery. Indigenous Midwives are transforming reproductive health by providing culturally rooted care to First Nation, Métis and Inuit families and communities, re-awakening Indigenous cultural knowledge and practices.
The Association of Ontario Midwives asks all midwives and their supporters to vote for candidates that will advance reproductive justice for Ontario families.
See how the four major political party platforms stack up against midwifery priorities in our previous post, Informed decision-making in politics: How the major Ontario political party platforms address midwifery priorities.
Questions for candidates and campaigners in your community:
How will your party support the growth of Indigenous midwifery so that every First Nations, Inuit and Métis community has access to care close to home?

Will your party stop wasting tax dollars fighting midwives in court and close the gender pay gap for midwives?

What concrete steps will your party take to update the Public Hospitals Act to ensure midwives' scope of practice cannot be unnecessarily limited?