A successful morning at Queen's Park: MPPs and midwives connect over breakfast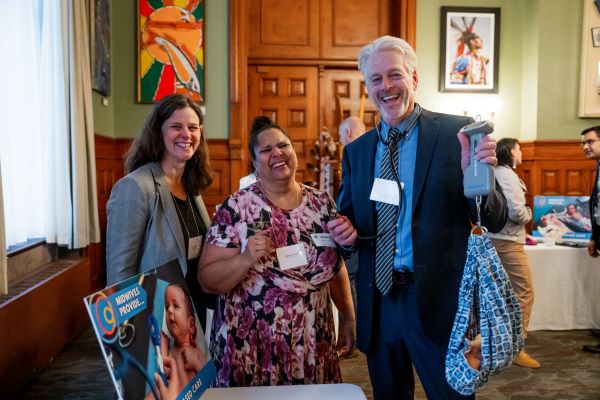 November 1, 2023
Pictured above: Midwives Elizabeth Brandeis and Manavi Handa use a doll to demonstrate to MPP Chris Glover how midwives weigh babies at routine postpartum visits at the Queen's Park event on October 26.
---
On Oct. 26, 2023 the AOM hosted a breakfast event at Queen's Park, bringing together Members of Provincial Parliament (MPPs) from across party lines. An important touchpoint in the Valuing Midwives Campaign, the event was well attended by MPPs and cabinet ministers who learned about the midwifery profession's contributions to Ontario's health-care system.
MPPs engaged with midwives on the successes and challenges facing midwifery today. Midwives were represented by AOM staff and Board members, including President Jasmin Tecson and President-Elect Althea Jones, as well as Negotiations Task Force (NTF) members and Chairs of AOM Committees and Work Groups (midwives Jenna Bly, Manavi Handa, Bounmy Inthavong and Anna Meuser). Indigenous midwifery was represented by AOM staff Leila Monib, Mi'kmaw Midwife Diane Simon, and Ashley Lickers, Indigenous Midwife practicing at Six Nations.
MPPs learned about cost-effective and high-quality midwifery care that centres clients and ensures "the right care by the right provider at the right place." Midwives educated politicians on the importance of cultural safety and the leadership of Indigenous Midwives who are working to restore birth to community. MPPs heard the significance of access to 24-7 on-call support, which reduces unnecessary emergency department visits and frees up hospital beds for those who need them.
At clinical tables, MPPs learned about midwifery's excellent clinical outcomes and evidence-based care. Notable attendees like Health Minister Sylvia Jones and Minister of Finance Peter Bethlenfalvy got hands-on experience as they tried their hand at weighing a baby, a routine part of midwifery care in the postpartum period. Following the event, midwifery representatives were invited to the Members' Gallery and were welcomed formally at the Legislative Assembly.
The event at Queen's Park marked an important benchmark of strengthening connections between midwives and their elected representatives. Midwives and Political Action Leads continue to promote the value of midwifery.
Interested in meeting with your local MPP or inviting your MPP to visit your clinic? Contact Ifra Zahid, policy analyst, at Ifra.Zahid@aom.on.ca.