"They will strengthen the ranks": Next generation of midwives learning through a pandemic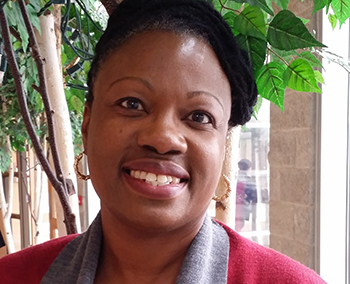 June 16, 2020
Karline Wilson-Mitchell, DNP, MSN, CNM, RM, RN, is the Director of the Midwifery Education Program (MEP) at Ryerson University. She began practicing midwifery in 1992, and became a member of the MEP Faculty at Ryerson in 2008. Additionally, she mentors in the Chang School's International Midwifery Preregistration Program (IMPP). She has practiced midwifery in the United States and in Ontario. Karline's years of working with international nursing and midwifery students and clients has fueled her interest in international health and health policy. Jacqueline St Bernard Hitz, RM, Communications Officer at the AOM, reached out to Karline for her take on how the COVID-19 pandemic has impacted the MEP.
---
AOM: The COVID-19 pandemic has impacted students in a myriad of ways. What do you see as being the biggest impacts on midwifery students?
Karline: The biggest impact has been the restrictions to placements and needing to balance the duty to protect students and their families vs. keeping opportunities open to learn essential lessons of clinical management infused by IPAC principles that can only be learned in the field.  
AOM: In what ways do you think the pandemic has disparate impacts on different groups of students?
Karline: The pandemic has meant that three of 15 clerks were delayed in graduating and tackling their student debts. COVID-19 is a profound obstacle in their MEP career trajectories.
Single parents, students with immunocompromised family members and pregnant students are especially affected and have considered leaves of absence.
Racialized students have the multiplied burden of COVID-19, an environment that is increasingly hostile and traumatizing, and these students may reside in isolation if they moved for school, or they may live in multigenerational homes where they are especially concerned about COVID-19 transmission. 
Students who arrived at school on a wish and a prayer are facing OSAP and CERF that isn't comprehensive enough to meet their needs. Our placement arrangements must go through a much more rigorous process, including the university, the MPGs, the hospitals, and/or the individual multidisciplinary preceptors, which creates multiple contingencies. With the limited temporary jobs available now and the uncertainty of placement dates, students with limited finances are facing huge obstacles. We rely on benefactors, donors and endowments to supply needy students with awards and scholarships.
AOM: The evolving situation makes it difficult to plan ahead at this time, but planning for various scenarios must be taking place behind the scenes. What plans does the MEP have for students for the coming term and year?
Karline: We are prepared to go into emergency virtual classroom mode. Using the best practices for teaching and learning, we will deliver a completely online curriculum as our university has required. This includes creative online simulations. We continue to advocate for students to have restricted access to campus labs and clinical experiential suites for OSCEs. Meanwhile, we are grateful to our dean for funding extra research and teaching assistants who will help with the monumental task of uploading new digital technology and applications that will maintain our high quality standards of teaching and evaluating students.
Best case scenario we begin or resume placements around July 6. We're hoping for Clerks to resume earlier. Our readiness criteria must be applied on an individual level for each student, each placement.
AOM: Graduating students had their final year cut short, and are now preparing to join the work force of midwives on the front line. What message do you have for them as they navigate this transition?
Karline: I continue to hear good news that our Clerks who were eligible to graduate have been interviewed and hired for New Registrant jobs across Ontario and Canada.  We are fortunate that the majority were only two weeks short of placement, had achieved or exceeded all the CMO-required birth numbers, were performing competently and confidently. We've asked all midwifery practice groups to welcome this cohort of new registrants with open arms.  Even more than ever, they will need support, mentorship and affirmation as they apply their knowledge in a post–COVID-19 environment. Every midwife should consider reflexive practice and life-long learning. They are no different. The next two cohorts of graduates will likely require a supervised New Registrant year, similar to IMPP graduates. We ask that supervisors welcome these new midwives with patience and collegiality. They will replace the dozens of midwives who will leave midwifery annually for retirement, leaves and career changes. They will strengthen the ranks of Ontario midwifery.
AOM: Early on in the pandemic, Ryerson's MEP donated infection control supplies to Michael Garron Hospital. Do you see the university or the MEP as having a role to play in the ongoing crisis?
Karline: Ryerson's MEP also donated PPE to the Toronto Birth Centre, and on a whole Ryerson University, the Faculty of Community Services, the Faculty of Creative Arts and Design and the Faculty of Science have donated to St. Michael's hospital, among others. We have a Biomedical Zone that we hope will generate products and systems to fight COVID-19 on new levels. We have been fortunate at Ryerson to win several billion dollars worth of tri-council grants.
The challenge is for midwifery to raise awareness of how COVID-19 Is affecting diverse childbearing families and the birth workers who care for them. We continue to plug ourselves into each arena where the partners are investigating applied knowledge that is relevant to midwifery.
AOM: Many MEP instructors are practicing midwives themselves. How have you seen the pandemic impact MEP staff and instructors?
Karline: Wearing many hats is tiring but rewarding. We are sharing the teaching load to enable faculty who practice to continue to do so. Clinical currency is important to our school. This has never been more relevant than now, when we need to lead the clinical guideline development. We as academics and researchers need to interpret and synthesize the relevant research and epidemiology. Without the lens of practice, we would find it much more difficult. Vicki Van Wagner sits on Ontario's Provincial Council for Maternal and Child Health (PCMCH) and Cheryllee Bourgeois provides the National Aboriginal Council of Midwives (NACM) perspective to our curriculum. Elizabeth Allemang, Clinical Education Coordinator, and Loreto Freire, Experiential Learning Coordinator, act as a conduit to ensure we are listening to midwives' concerns. Preceptors are accepted as adjunct faculty. That's how highly we prize clinical work.
AOM: If you had one wish for midwifery students, what would it be?
Karline: My hope is that no student is left behind. Despite the COVID-19 pandemic, every student will learn what they need to be better midwives. My hope is that they remain healthy, resilient and stronger for having gone through their education at a time like this.