Negotiations, solidarity with education workers and midwives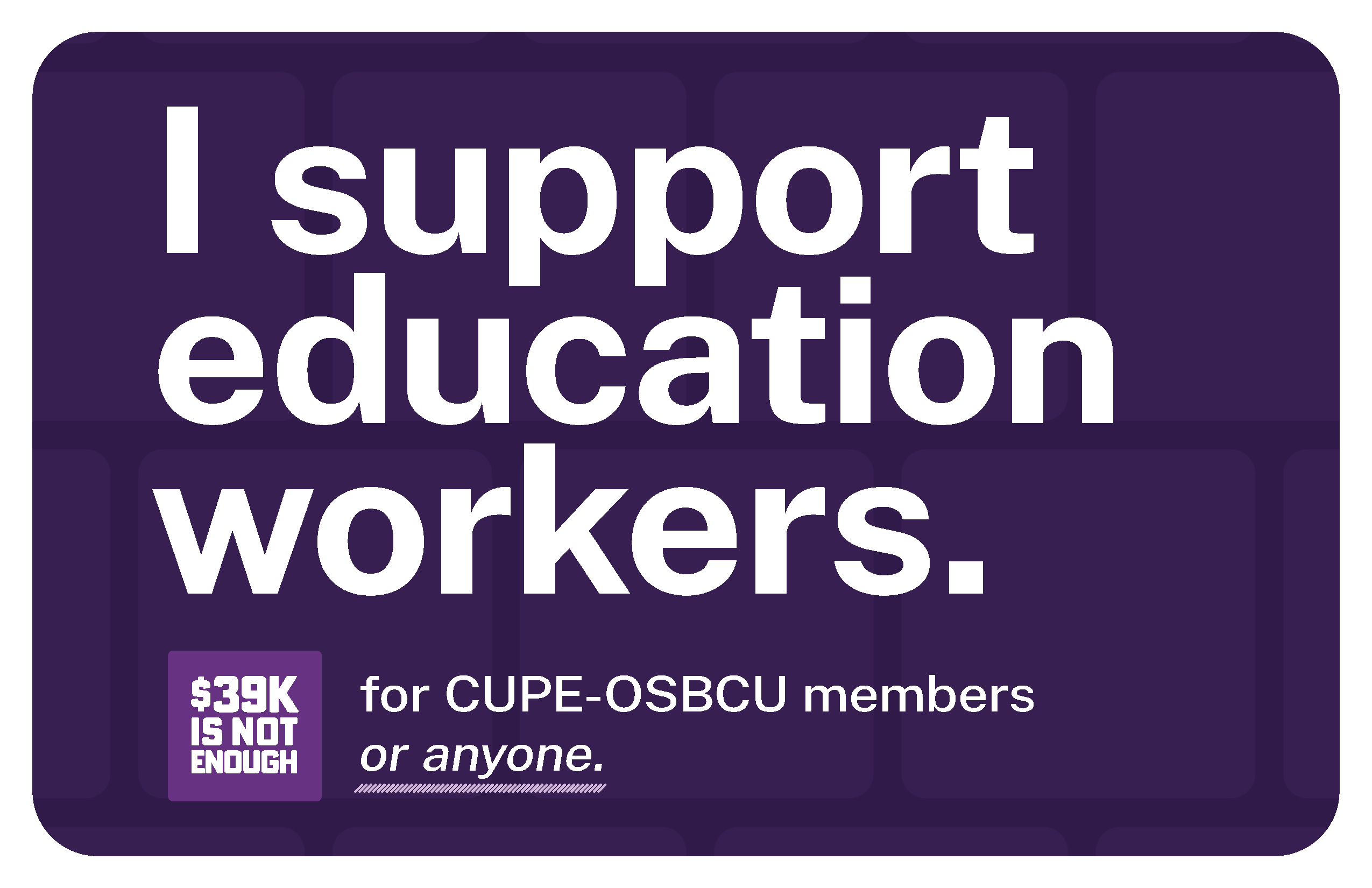 November 9, 2022
Last Friday Nov 4 Ontarians witnessed something unprecedented – the provincial government's use of the notwithstanding clause to suspend fundamental, Charter-protected rights for 55 000 education workers represented by CUPE through the passing of Bill 28. On Monday, following an impressive demonstration of solidarity between public and private sector unions, government announced it was rescinding Bill 28.
There are many important connections and reasons for midwives to stand in solidarity with CUPE. Education workers are a female-dominated sector of workers attempting to address issues of equity in their current negotiation with government. In fact, Leah Sarson wrote about this connection to gender in her article in the Globe and Mail (please note: the article is behind a pay wall because journalists need to be paid for their labour, too). Sarson makes an explicit link between education workers and midwives' fight for pay equity, and references Ontario midwives' precedent-setting case.
Many labour unions, including CUPE, have supported midwives in our struggle for pay equity and for a fair negotiations process over the past decade, including through the Pay Equity Coalition, as the AOM led campaigns and legal action to close the gender wage gap for midwives.
Negotiations are also underway for midwives. The AOM and the Ministry of Health began negotiations this month, and talks are expected to last until January, at which time an offer will be brought to AOM voting members for ratification. As always, midwives count on the AOM to represent the needs of midwifery with strength, evidence and conviction.
Sadly, just like education workers, midwives have also struggled to be fairly compensated and bargained with by government. Midwives have seen government delays in the implementation of orders from the HRTO, including with the joint compensation study (which is to determine the actual quantum of the gap between midwives and physician male comparators back to 2014), and the intersectional gender-based analysis (which is to shift the 'usual ways of doing business' to an intersectional gender-informed approach to addressing equity gaps in the government's interaction, stewarding and funding of midwives and midwifery). Most alarming has been the government's refusal to extend binding arbitration to midwives, despite the HRTO "urging" government to consider arbitration in the context of the essential nature of the work midwives do (that is, birth cannot be put on hold and midwives cannot abandon clients to engage in withdrawals of work).
According to Charter, workers either have a right to strike or, if they are essential workers who cannot strike, to binding arbitration. This is the very right the provincial government attempted to take away from education workers through Bill 28 — and, the very right the government has denied midwives. Despite these realities, the AOM has engaged in negotiations in good faith, and is making all possible efforts to negotiate the best possible deal for midwives, while also doggedly holding government to account for implementing HRTO orders.
The AOM stands in solidarity with CUPE education workers and continues to fight for the rights of midwives, for improving the lives of midwives and for strengthening midwifery.
What can midwives do?
Support CUPE and education workers on social media and in your communities. #CUPESolidarity #39kIsNotEnough
Stay informed about the AOM's bargaining process with government on behalf of midwives. Learn more.