National Day for Truth and Reconciliation 2023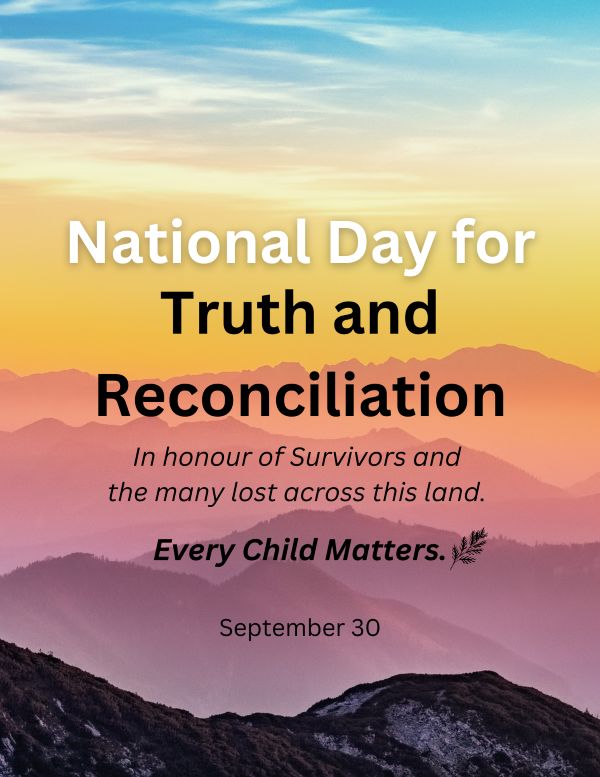 September 27, 2023
---
Conversations about residential schools can be difficult for people from the most impacted communities. The National Indian Residential Schools Crisis Line (1-866-925-4419) is available to survivors and their families, free of charge, 24 hours a day, 7 days a week.
---
September 30 marks the National Day for Truth and Reconciliation, a national public holiday to honour the Indigenous survivors of residential schools, their families and communities, as well as the many children whose lives were lost at these notorious institutions. Declared in 2021, this national day of commemoration coincides with Orange Shirt Day and responds to Call 80 of the 94 Calls to Action intended to ensure the history of residential schools remains a vital component of the reconciliation process.
Orange Shirt Day has its origins in an Indigenous-led initiative in William's Lake, B.C., that brought together residential school survivors and their families who generously shared their lived experiences with local officials and civic organization representatives. At this gathering, Phyllis Webstad, a survivor, recounted a story of having her orange shirt—a gift from her grandmother—stripped away from her on the first day at a residential school. Phyllis never wore it again. "I didn't understand why they wouldn't give it back to me, it was mine! The colour orange has always reminded me of that and how my feelings didn't matter, how no one cared and how I felt like I was worth nothing. All of us little children were crying, and no one cared."
The powerful imagery in Phyllis' experience inspired the creation of Orange Shirt Day, a day to raise awareness of the forced assimilation, cultural genocide and abuses perpetrated at residential schools, and the inter-generational impacts on individuals and communities. It is also a time to reaffirm to survivors and their families that their losses, experiences, and healing will never be forgotten. #EveryChildMatters
As September 30 falls on a Saturday this year, the AOM will observe the holiday on Friday, September 29, during work hours. Non-Indigenous AOM staff will spend the day engaging in individual and collective activities to further their understanding of the legacy of residential schools. We encourage all settler midwives to set aside some time for personal and shared reflection, education and actions that connect these learnings to their midwifery practice.
Some questions to reflect on
What is your history here on Turtle Island? How is it connected to the history and experience of Indigenous people?
How has the systemic oppression of Indigenous peoples by the colonial state also resulted in harm to non-Indigenous peoples on these lands? What has been lost to the collective?
Why is reconciliation meaningful? What does it look and feel like to me?
What actions can you, individually, and your practice as an organization (MPG or EMCM), take in support of truth, reconciliation, and healing? 
What does a right to self-determination mean? What are some examples of the successes of self-determination efforts being made by Indigenous people?
Midwives living in other cities or provinces can research an event local to them. A good place to start is by looking up the friendship centre closest to your community:
Other actions you can take to educate yourself and lend support this September 30
Familiarize yourself with the history of residential schools and the 94 Calls to Action from the Truth and Reconciliation Commission.

Invite a friend / colleague / loved one to attend an Orange Shirt Day event in your community or online and share joint reflections afterward.

Support efforts to raise awareness about the legacy and impacts of residential schools. Consider visiting or making a contribution to such organizations as the Woodland Cultural Institute and National Reconciliation Centre.

Support the work of the National Council of Indigenous Midwives and the Indigenous Midwifery Department at the AOM.

Wear orange and share resources on social media using the hashtags: #OrangeShirtDay #NDTR #EveryChildMatters