Remembering and honouring MMIWG2S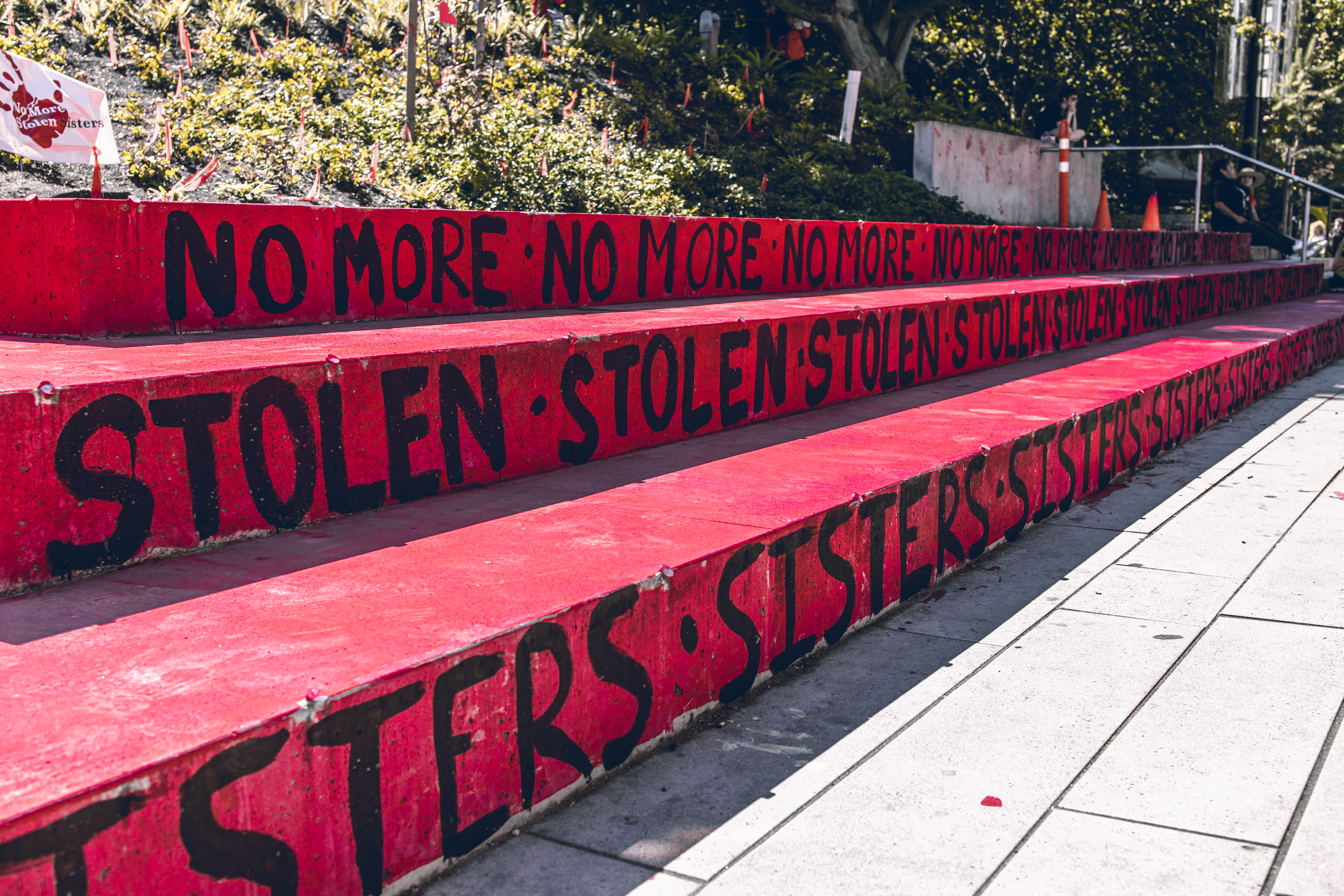 February 14, 2023
February 14 marks the anniversary of the annual Women's Memorial March (WMM), held in communities across Canada and the United States to remember and honour Missing and Murdered Indigenous Women, Girls and Two-Spirit persons (MMIWG2S). Led by Indigenous women, the march began when loved ones and supporters gathered on Valentine's Day in 1992 to commemorate the life of 26-year-old Cheryl Ann Joe, who was murdered weeks earlier in the Vancouver Downtown Eastside (DTES). The focus of the march has since expanded to across Canada, and provides an outlet to "express compassion, community and caring" for all MMIWG2S.
Indigenous women, girls, Two-Spirit and trans people continue to disproportionately experience Indigenous rights and human rights abuses, with inadequate action from the Canadian government to redress the systemic nature of colonialism, gendered violence, poverty and racism. Since the National Inquiry closed in 2019, the Government of Canada created the National Action Plan to address the genocide, an issue that ninety percent of Canadians feel is important. Read the 2022 Progress Report (PDF, 13.4 MB).
To date, there has been inadequate progress made on the National Action Plan, with Canadians rating the government's response to the MMIWG2S genocide as poor. The National Family and Survivors Circle (NFSC) has welcomed increased accountability on the MMIWG2S issue, and notes the reality of implementing solutions is "far too slow" and that "inaction is deadly".
In 2021, the Native Women's Association of Canada (NWAC), one of 19 Indigenous organizations involved in the development of a plan to address violence against Indigenous women and girls, stepped away from the national process, referring to it as dysfunctional and flawed. NWAC has since published its own Action Plan. Entitled Our Calls, Our Actions (PDF, 2.9 MB), the document includes 65 concrete actions to improve the safety and healing of Indigenous women across Canada. NWAC's 2022 Federal Annual Scorecard (PDF, 3.4 MB) asserts government's failure to adequately address the 231 Calls for Justice, noting a lack in concrete action, accountability, and transparency required to end the genocide. Specifically, NWAC calls for the creation of oversight bodies, committees, and working groups, as well as analysis on how funding is allocated, and evaluation of funding impact at the community level. 
Slow progress was greatly exacerbated by the COVID-19 pandemic, which brought increased isolation, abuse and violence against Indigenous women and girls. In December 2022, the murders of Morgan Harris, Marcedes Myran, Rebecca Contois and Mashkode Bizhiki'ikwe, or Buffalo Woman, at the hands of a serial killer in Winnipeg, Manitoba, cemented the crisis of the ongoing genocide and the need for urgent action.
The WMM invites us to grieve the loss of beloved Sisters and MMIWG2S relatives, remember those still missing, and rededicate ourselves to justice. Moving forward requires immediate action to:
release a costed, measurable and actionable implementation plan addressing the 231 Calls for Justice;
increase transparency and accountability through the creation of mechanisms and oversight bodies;
accelerate the implementation of the National Action Plan; and
end colonial, gendered violence and prioritize MMIWG2s
The AOM continues to meaningfully engage and fully support the self determination of Indigenous nations, and commits to implement the Calls to Action of the Truth and Reconciliation Commission (PDF, 298 KB), Calls to Justice of the Missing & Murdered Indigenous Women & Girls Report (PDF, 643 KB) and recommendations of the In Plain Sight Report (PDF, 13.8 KB). The vision of midwives' leadership in decolonized and anti-racist reproductive and newborn care requires the renewal and restoration of Indigenous midwifery and return of birth to communities.
Learn more
The Ontario Native Women's Association (ONWA) offers resources, including the Reconciliation with Indigenous Women Report (2020) (PDF, 15.3 KB), which utilizes an Indigenous Gender-Based Analysis and provides 13 recommendations to be integrated into the National Action Plan. ONWA has also created and designed the Grandmother Earth Dress, a traditional red jingle dress inspired by Metis Artist Jaime Black's REDress Project. Grandmother Earth Dress contains 365 jingles to represent a year-round call for justice and safety for Indigenous women, girls and Two-Spirit people, and travels throughout Ontario to support families and communities, to honour mothers, daughters, aunties, sisters, grandmothers, nieces and cousins.
NFSC's contribution to the National Action Plan, entitled The Path Forward – Reclaiming Power and Place (PDF, 11 MB) utilizes the 231 Calls for Justice to outline best practices on including survivors and their families, and advocates for the recognition of agency and leadership of survivors in their Nations and communities. It includes detailed expectations to obligations and responsibility required to take action and end the genocide against Indigenous women, girls and gender-diverse people.
NWAC contributed to the National Action Plan, and includes resources such as the Safe Passage initiative and Resource Hub, which are dedicated to ending the ongoing genocide and eliminating violence against Indigenous women, girls, transgender, gender-diverse, and Two-Spirit people. Safe Passage Stories digitally commemorate and honour the contributions of lost loved ones.
Midwives are encouraged to familiarize themselves with the National Inquiry into MMIWG and consider provincial, national and local resources that support decolonization and anti-racist practice.