"There is still a lot of work to be done": Interview with AOM Vice President Bounmy Inthavong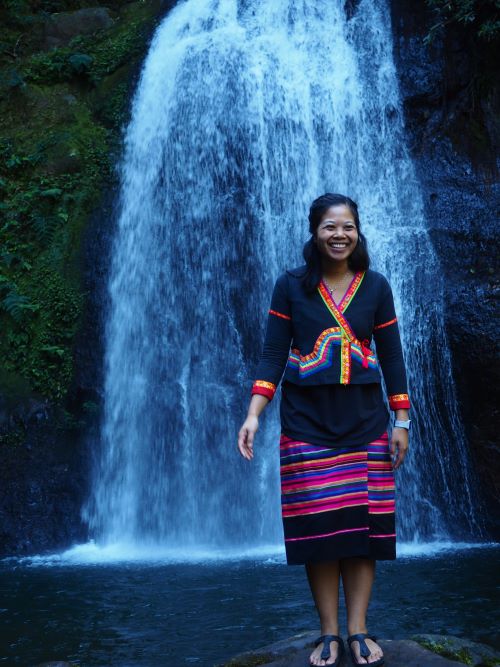 May 5, 2021
May 5 is the International Day of the Midwife, a day to celebrate the hard work and dedication of the world's midwives; to advocate for increased access to quality midwifery training around the world as an investment in sexual, reproductive and newborn health; and to recognize midwifery leaders for their contributions to the global community. Today we chat with one such leader, AOM Vice President, Bounmy Inthavong, RM, Chair of the Racial Equity Committee (REC), Recipient of the International Confederation of Midwives' (ICM) Young Midwifery Leaders for 2019-2021, and Co-Founder of the Lao Midwife Fund, about the need for expanded midwifery resources in Canada and abroad, and what keeps her motivated as a young midwife working in unprecedented times.
---
AOM: You have been selected as one of ICM's Young Midwife Leaders (YML) for 2019-2021. What has the program meant for your work as a midwife in Ontario, as well as for your global connections?
BI: ICM's YML program has historically been a two-year program that brings young midwives under the age of 35 together from various parts of the globe. However, my cohort was affected by COVID-19 restrictions which created a lot of barriers towards opportunities to showcase the various projects each YML is working on—most notably, the cancelation of ICM's conference in Bali last year.  In return, we have had the opportunity to continue on for another year. My YML colleagues are from areas such as South Africa, Pakistan and Malawi; all with innovative projects that address maternal and newborn health. In 2017, I co-founded the Lao Midwife Fund, which looks to improve maternal and children's health in Lao PDR by funding projects that advance midwifery access and services through public education, advocacy and health equity initiatives. We have worked closely with UNFPA-Lao since 2018 and the Lao Midwives Association in order to strengthen their midwifery association and emergency skills. The YML program has connected to experts regarding midwifery association strengthening and perinatal health both within Canada and internationally. I would specifically like to thank Emmanuelle Hebert, RM, and Natalie Pambrun, RM, for all their help! These connections have provided me mentorship in addressing the highly complex barriers in addressing maternal health. Their experience has showed me how transformative and beneficial the work can be, especially when done in a collaborative and community-led manner. It is a motivation to move beyond a feeling of stagnation, especially during the pandemic.

AOM: This year's IDM theme from the ICM is "Follow the data: Invest in midwives," coinciding with the publication of the 2021 State of the World's Midwifery report. Data from around the world has clearly and repeatedly shown the value of midwifery services in providing essential, respectful, inclusive care and improving important health outcomes for birthing parents and babies. Can you speak to the relevance in the Canadian context?
BI: Time and time again, midwives are reported as an asset for sexual and reproductive health and rights which include not only prenatal, birth and delivery, but also provision of extended health services such as family planning and abortion care. This isn't new. When we look at the scope of the data, such as the 2014 Lancet Midwifery Series, midwives, when regulated and integrated, well funded and working to their full scope, have the potential to reduce maternal and newborn mortality and stillbirth rates by over 80% and reduce pre-term labour and birth by 24%. Yet midwifery services vary by province and territory in Canada. In some areas, midwifery has been regulated and funded for over twenty years, and in other provinces and territories, it is not yet regulated or funded. Data is pivotal and speaks for itself; however, as demonstrated by the dedication of Kathleen Cranfield, RM, who over the years has advocated for midwifery to be recognized as profession in the Yukon territory, data does not always equate to health-care implementation. There is still a lot of work to be done, in terms of allowing midwives to work to full scope, be integrated within the health system, be paid equitably, be granted a seat at policy tables and be recognized for their value in health care, even in Ontario after over 30 years of regulated midwifery.

AOM: You have spoken in the past about being drawn to study and practice midwifery because the model is centred around the power of informed choice. Now you are almost six years into practice. Does this aspect still draw you in now?
BI: Informed choice is what keeps me going every day in my job. For me to hear a client say they felt empowered to direct their care towards a pathway they wanted, after having an informed discussion with their midwifery team and doing their own research and self-reflection, is an incredible experience. After practicing for a few years, I feel much more at ease navigating with my clients through a health-care model that often does not provide them power and agency to make choices about their bodies. I know midwives and many health-care providers who often feel challenged by what interprofessional colleagues might think about our clients' choices, which in turn can sometimes lead us to provide care with hesitation. Body autonomy and self-governance are so important! The latest UNFPA report released last month titled "My Body is My Own" states that nearly half of all women are denied their bodily autonomy! This is further evidence that informed choice and person-centred care is crucial for access to sexual and reproductive health and rights.

AOM: Body autonomy is so important! We know that self-determination in health care is impacted by social identities as well, and that Indigenous, Black and racialized folks are too often disempowered through interactions with the health-care system. In your life and work as a midwife, and now as Chair of the Racial Equity Committee at the AOM, you have spoken out against the systemic inequities in Ontario's health-care, including a lack of investments, research and access to care for marginalized communities. What do you see as the role of midwifery in this, and what needs to change in midwifery to address these inequities?
BI: Racism is, unfortunately, woven throughout the economic, political, and social structures that make up Canada. Racism is found in midwifery education, professional organizations and clinical practices, and it must be addressed. It will involve significant commitment to dismantle the various layers of generational oppressive policies and systems. This must go beyond cultural competency courses, as it is clear that this is an insufficient framework for approaching health disparities. One of the ways in which the midwifery profession could address systemic inequities is to effectively diversify the profession. IBPOC midwives are uniquely positioned to provide high-quality care to racialized and marginalized communities because of their lived and intersectional experiences. Midwives should work to create a profession whose racial demographics mirror that of the populations being served. Work is starting, but is very much in its infancy in the Midwifery Education Program and at the AOM lead by the Health-Equity, Quality & Human Rights Department.

AOM: Has the pandemic changed anything about the way you view midwifery or the role of midwives in Ontario? How about globally?
BI: The pandemic has held a spotlight to the weaknesses of the health-care system which many advocates have been fighting to reform for years. The lack of readiness for a pandemic response might be explained away with a variety of reasons, but better health-care provider integration, not just for midwives but nurses and nurse practitioners, PSWs, physician assistances, etc., should have been an imperative part of the response. A well-integrated health-care model means all providers have the opportunity to work to the full extent of our scope within our communities in a collaborative and person-centred system. The pandemic once more showed that the health-care system depends on the workforce to work beyond their means and relies heavily on the altruism which originally drew many of us to our professions. I am not surprised that so many of my midwife colleagues stepped up for their communities during the pandemic. A great example is the MATCH midwifery program in Toronto, whose midwives have continuously brought forth creative and effective ways to meet their clients where they are. The adaptive response of MATCH and many other midwives in our communities enabled us to continue to provide excellent quality, uninterrupted service with no formal recognition and in many cases no compensation for additional work. I have a lot of pride for my midwifery colleagues and all the providers out there, especially in the face of ever-changing policies, COVID hesitancy, fear for safety and the need to adapt continuously in our home and work lives.
When we look at what has happened in the pandemic, the above is also very true on a global scale. We see inequities exacerbated in many countries in terms of vaccine roll out and access to COVID treatment, among other disparities. We know the majority of the global health-care workforce is female, with many fearing for their personal safety and the risks they bring home due to lack of PPE, while carrying the burden of the unpaid work that exists within gendered roles. Midwives across the globe have stepped up to ensure that essential reproductive care is still being provided throughout the pandemic, doing what they can to ensure that the inequities aren't further exacerbated in the communities that already struggle. Midwives have been advocating to ensure that access to care is still available, that a support person can be present in labour and birth and much more. Great examples come from the Black Midwives Movement in the USA, a movement to answer the higher rates of maternal and neonatal mortality among African Americans. Black Mamas Matter Alliance is another incredible group that everyone should check out and support.

AOM: Thank you so much for sharing that. This past year has been overwhelmingly hard for everyone, but especially for racialized communities, people living in poverty and other marginalized groups. There is no denying that it has also taken a toll on our health-care workers on the front line, including midwives. What motivates you to keep going?
BI: Like many health-care providers, I have had periods where I struggle to balance my mental health with "self-care." I worry a lot; I worry about my elderly parents, my family and friends, my family in Lao PDR, my community… coupled with all the social media threads of hatred. I want to be honest here, since I wouldn't do my colleagues and friends who have been my support through the pandemic any service if I didn't speak this truth. What keeps me going is similar to so many others: we are doing our jobs. It is the communal attitude that we are all in this together. Together we will work at this until it is over; we are here for each other. I come to work in my office, or at the hospital, and my colleagues are my motivation. They motivate me to continue providing the best quality care regardless of the pandemic. I am grateful for my family and friends who have been a motivation to take care of myself outside of work, and most importantly my IBPOC colleagues who have created a virtual community to support and uplift one another.