"It's the vindicating end of a long road, and the journey continues": Midwives celebrate Ontario government's decision not to appeal human rights win a third time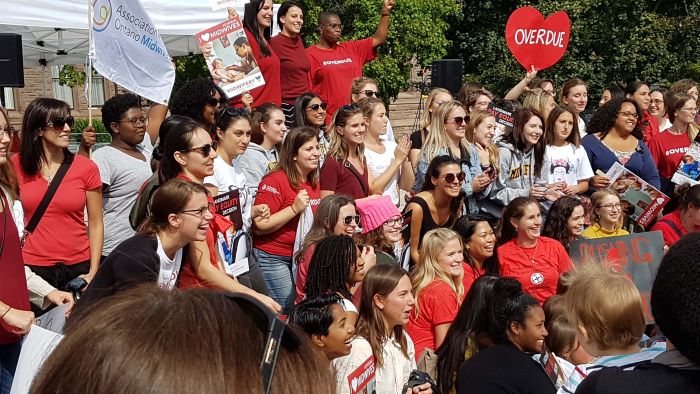 August 31, 2022
Following nine years of determined perseverance, Ontario midwives can truly savour their landmark human rights victory now that the Ministry of Health has confirmed they will not apply for a leave of appeal to the Supreme Court of Canada. Midwives have already won two previous appeals by the government of a decision at the Human Rights Tribunal of Ontario (HRTO) that found the Ministry of Health liable for gender discrimination against midwives in its compensation-setting practices and ordered the ministry to take remedial action to close the gender wage gap. The government had until September 12, 2022 to decide whether to seek leave to appeal at Canada's highest court of appeal. The government's decision to not seek leave to appeal at the Supreme Court means the HRTO's findings of liability and remedy orders, along with midwives' two previous appeal victories, stand.
Precedent-setting win
This historic win establishes and confirms important legal principles that can be relied upon, including the proactive obligation on behalf of government and employers to prevent adverse impacts of policies and practices on equity seeking groups.
The courts found the Ontario government has been undervaluing the work and worth of midwives because it associates midwifery with women and women's care work, and that the Ontario government is liable for discriminatory compensation-setting practices as a result. This represents a form of gender-based discrimination, illegal under Ontario's Human Rights Code. Pay equity is not about paying midwives the same as physicians, but about eliminating gender bias in compensation through a comparative understanding of their skills, effort, responsibility and working conditions. The Ontario government has been ordered to take concrete steps to close the gender wage gap and end the discrimination. Read further background about the case.  
Celebrating the milestones, and the people behind them
Blazing a trail through Canada's legal landscape would not have been possible without the tireless efforts of midwives, who supported this work financially and through testimony and activism; our outstanding legal team led by Mary Cornish and Adrienne Telford, and their team at Cavalluzzo; the hard-working staff at the AOM; and the invaluable support of organizations, associations and individuals in Ontario and across the country, who helped ensure that our struggle to achieve these landmark rulings were kept in the public eye, put pressure on government and showed the world that our cause had impact well beyond the midwifery sector. Thank you for helping Ontario midwives make history.
A few highlights in the journey towards closing the gender pay gap:
November 27, 2013 | Midwives file their case with the Human Rights Tribunal of Ontario (HRTO)
April 4, 2017 | The last of 52 hearing dates at the HRTO
September 24, 2018 | Landmark liability decision (PDF, 364 KB) is released by the HRTO and midwives are victorious
February 19, 2020 | Remedy decision (PDF, 612 KB) is released and seeks to reverse and prevent future gender discrimination
April 21, 2020 | First day of the Divisional Court appeal hearing held via Zoom 
June 26, 2020 | The Divisional Court releases their unanimous decision (PDF, 755 KB) is released and in favour of Ontario Midwives 
September 30, 2020 | Midwives receive a 20% pay adjustment going forward
November 10, 2021 | Midwives face off the Ministry of Health's second appeal at the Ontario Court of Appeal
June 13, 2022 | The Ontario Court of Appeal releases their unanimous decision (PDF, 494 KB) in favour of midwives
August 29, 2022 | The AOM receives confirmation that the Ministry of Health will not seek leave to appeal to the Supreme Court of Canada.
Holding the government accountable
While Ontario midwives are applauding the Ontario government's decision not to waste more resources dragging midwives through a third appeal, they won't pause too long to celebrate. There remains substantial work to do to hold the ministry to account for their Tribunal-ordered obligations. The pay equity gap from 2014 to the present still needs to be fully addressed. Furthermore, several of the systematic remedies ordered have yet to be fully implemented to ensure the Ministry of Health does not continue with their "business as usual" approach that tends to discriminate against equity-seeking groups in society, including women, Black, Indigenous and racialized people, and people with disabilities, among others. Two of those orders include implementing the intersectional Gender Based Analysis (GBA+) report and the Joint Compensation Study that will help determine the value of midwives' work so that their compensation can be appropriately held up against comparators at the beginning of each new funding agreement to monitor for future gender-based compensation gaps.