Ontarians recognize the value of midwives to clients, families and the health-care system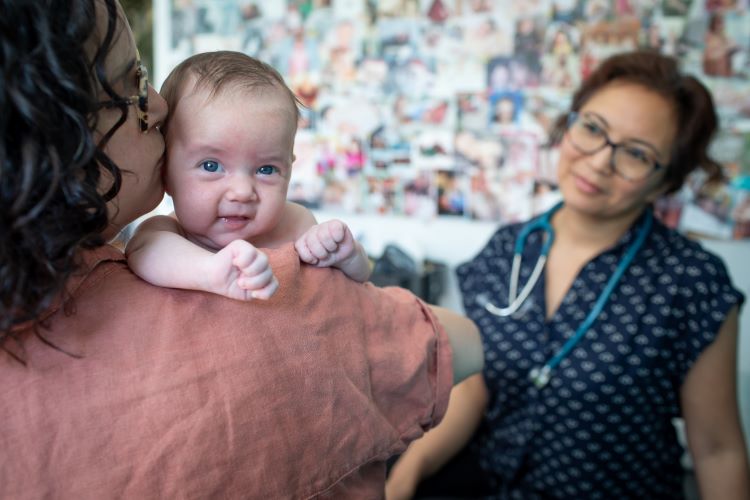 October 10, 2023
Pictured above: Lauren Goodman and daughter Ruby visit midwife Jasmin Tecson in clinic. Photograph by Marina Dempster 2023.
---
In Ontario, midwives bring value to the health system. Last year, 26 000 families received midwifery care, accounting for 20% of all births in the province.
Midwives bring value to the health system in many ways, including by providing care in the community, so hospital resources are available for those who need them most. Midwives provide the same level of excellent care both in hospital and in the community, with choice to give birth in their home or in a hospital or birth centre. Clients in midwifery care who choose a hospital birth can often leave the hospital within hours of giving birth, because midwives will continue to provide the care they need in the community.
Clients in midwifery have access to a small group of midwives 24-7. This on-call model enables clients to contact their midwives for urgent matters and care outside regular business hours. Midwifery on-call care helps clients avoid unnecessary emergency room visits and reduces the strain on an overburdened system.
But it's not only the greater health system that benefits from midwifery. Clients and their families across Ontario deeply value midwifery care. The AOM spoke to clients from across the province to hear from them directly about what they value about midwifery.
Client-centred care
Lauren Goodman, a client of midwife Jasmin Tecson, chose midwifery care for the opportunity to build a strong partnership with her health-care provider. Reflecting on her experience, Lauren emphasized that midwifery provided "exceptional care, including postpartum support at home – something I couldn't imagine going without."
Another client, Lindsey Bruce, valued the holistic approach of her midwives Catha Marie McMaster and Julie Piggot. "My midwives saw me as a whole person, not just what I needed clinically for pregnancy care. I struggle with mental health issues and my midwives were there to listen and support me without judgement, considering my overall well-being and medical needs."  Lindsey and Lauren both underscored the profound impact of feeling empowered and seen by their midwives throughout their care.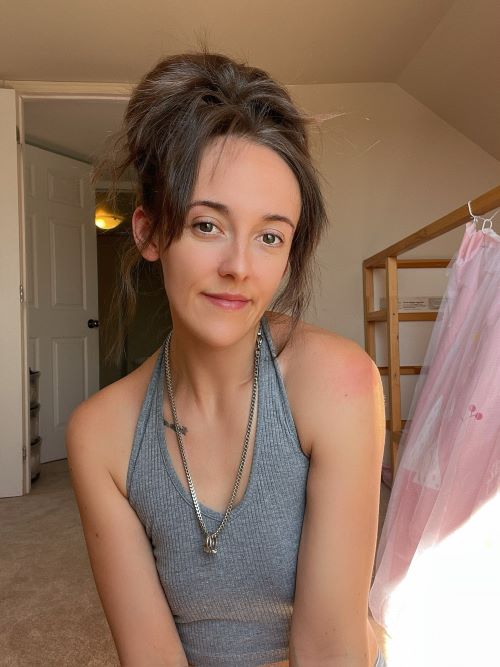 Lindsey feels fortunate to have had a midwife not just in one birth, but in three. "It was awesome to always go in and see the same friendly midwife faces. I never had to explain things twice because the whole team knew me and knew my history."
Continuity of care
Amber-lyn Gionette greatly appreciated the round-the-clock access to her midwife team, Kirsten Schmidt and Zoe Haslam. The on-call support midwives provided meant Amber always had access to care, even during a long and challenging labour, and that she knew the midwives who attended her labour and birth. She recalled, "I had contractions for seven days at home, with plenty of false alarms and sleepless nights. I was blown away by how available, patient and understanding my midwives were, helping me navigate this challenging time."
Informed choice
Informed choice recognizes the pregnant person as the principal decision-maker. Lauren was grateful for receiving comprehensive information that empowered her to make confident decisions about her health throughout pregnancy, birth and the postpartum period. She emphasizes, "The midwives focused on the 'why,' and I felt empowered to make decisions."
Another midwifery client, Jaime VanderHeiden, felt her midwife, Sarah Redfearn, gave her the information she needed to "feel confident in my choices."  The midwives provided skilled and expert care throughout Jaime's pregnancies, labour and birth.  Jaime recalls how important this felt during her pregnancy after having previously experienced a miscarriage. "I felt like every step was in my control, and that made me confident in my birth plans and providers, even after having experienced a miscarriage."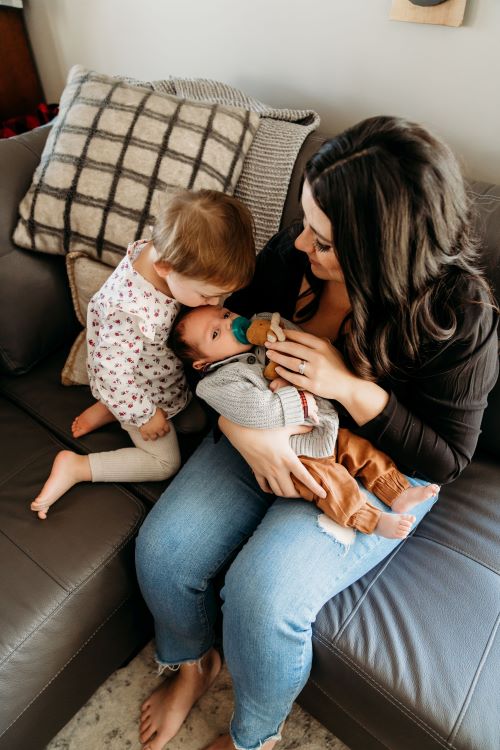 Postpartum care
During the postpartum period, midwives provide primary care for both the birthing parent and the newborn. Postpartum visits take place in a client's home or in a community clinic. Many clients value their midwives' expertise during the postpartum period and the ability to access care in the community. Lauren found that accessing midwifery care through home visits in the first days after her baby's birth was particularly supportive. "Support during the postpartum period is so necessary," shares Lauren. "A lack of adequate postpartum care can affect not only birthing parents but the entire family. It's so important to have access to care in the hours and days after your baby is born."
Valuing Midwives
Midwives not only enhance Ontario's health-care system but are also highly valued by Ontarians. With over 1000 midwives serving more than 250 communities in Ontario and more than 250 000 babies born under midwifery care since 1994, the profession continues to evolve and grow.