Celebrating National Indigenous History Month: Steps for settler midwives to meaningfully engage with reconciliation work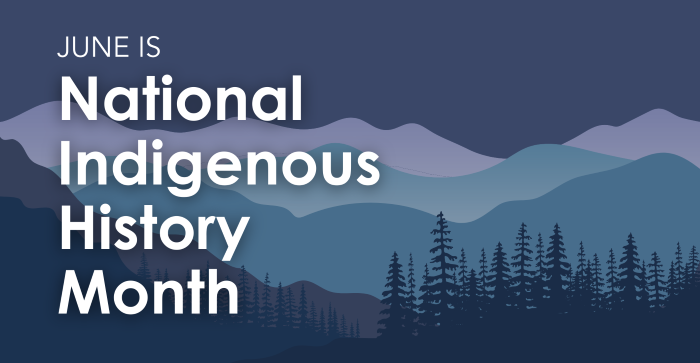 May 31, 2023
June is marked as National Indigenous History Month. This is a time to celebrate Indigenous peoples' rich cultures and diversity; to confront and commemorate the ongoing experiences of Indigenous peoples on Turtle Island; and to meaningfully engage in reconciliation work. The AOM supports the Indigenous Midwifery department, Indigenous midwives, and apprentices to Bring Birth Home, and is committed to the restoration and renewal of Indigenous midwifery.
The myriad of harms perpetrated against Indigenous peoples through violent colonial systems constitute an alarming and unsettling reality that necessitates confrontation to effect meaningful change. These harms are both historical and persistent into present day, and are well documented in the Truth and Reconciliation Commission (TRC) Calls to Action (PDF, 300 KB), as well as in Reclaiming Power and Place: The Final Report of the National Inquiry into Missing and Murdered Indigenous Women and Girls and the In Plain Sight Report (PDF, 14.5 MB).
Settlers hold a responsibility to self-educate about Canada's colonial past and present practices, acknowledge the impact of colonial legacies at the expense of Indigenous communities, and hold collective accountability towards reconciliation with Indigenous peoples.
Steps settler midwives can take to meaningfully engage in reconciliation work
Educate yourself
Settlers hold a responsibility to educate themselves on the history and present-day state of government relations with Indigenous peoples. This includes understanding colonization and harms against Indigenous peoples, the history of residential schools, the '60s Scoop, the Truth and Reconciliation Commission, and child welfare policies that disproportionately impact Indigenous communities and families. The resource list at the bottom of this page is non-exhaustive and can serve as a starting point.
Get familiar with and amplify Indigenous voices, organizations, and initiatives
When supporting Indigenous peoples, communities and advocacy, remember "nothing about us without us." Focus efforts on supporting and amplifying existing Indigenous organizations and initiatives. For example, amplify the recent work of Chiefs of Ontario: 7 Things You May Not Know are Systemic Racism (1.6 MB). This campaign lists the forced evacuation of Indigenous people for birth as a prime example of systemic, Indigenous-specific racism.
Decolonize your perspective
Decolonizing settler-colonial perspective is an ongoing, iterative and essential step towards understanding and dismantling the structures of colonialism. It involves challenging and unlearning dominant narratives and power dynamics, and actively seeking out alternative perspectives rooted in Indigenous knowledge and worldviews. 
Deepen understanding of land acknowledgements
Land acknowledgment is a practice to formally honour and recognize that the traditional territories and lands on which we live, work and gather have been stewarded by Indigenous peoples for generations. By acknowledging the historical and ongoing presence of Indigenous communities, settlers demonstrate respect, gratitude and a commitment to understanding the impact of colonization. Land acknowledgments are a call for reconciliation and underscore Indigenous sovereignty, and settlers' responsibility to engage in meaningful dialogue, learning and action.
Move beyond land acknowledgements
While land acknowledgements are important, there is a danger of optical allyship. To move beyond simply verbalizing a land acknowledgement, settlers can familiarize themselves with the Land Back movement, or reflect on meaningful actions to take as individuals and organizations, such as engaging with the TRC Calls to Action (PDF, 300 KB).
Understand what actions have (and have not) been taken
As a response to the findings of the Missing and Murdered Indigenous Women and Girls (MMIWG) inquiry, the government of Canada promised a series of "transformative changes" in June 2021 and released another National Action Plan in 2022. However, a 2022 assessment by the Native Women's Association of Canada (NWAC) deemed the government's performance a "failure" and a "recipe for inaction." The NWAC has since demanded immediate action to end the genocide against Indigenous women, girls, transgender, two spirit and gender-diverse people. Read NWAC's scorecard (PDF, 3.4 MB), which formally tracks the federal government's progress on implementing the 231 Calls for Justice presented by the National Inquiry into MMIWG, as well as NWAC's own National Action Plan (PDF, 3 MB).
Hold elected officials accountable
It is important to hold elected officials accountable. Find your elected representative, ask about the calls to action in the Truth and Reconciliation report and what is being done to further these actions.
Advocate for awareness of issues within broader health-care system
The TRC Report identified and made recommendations towards addressing health-care issues, including intergenerational trauma, mental health challenges, health disparities, cultural safety, child welfare, limited access to health-care services and the need for integration of Indigenous healing practices. Collaborative efforts by the AOM, the National Council of Indigenous Midwives (NCIM), Indigenous Midwives, health-care organizations and communities aim to restore Indigenous midwifery, advocate for infrastructure and funding, empower traditional knowledge and expand public awareness.
Engage in cultural safety practice and promote equitable policies
Indigenous cultural safety practice is critical to building trust and respect between settlers and Indigenous clients and colleagues. Support organizations that provide cultural safety training and invest in ongoing training for yourself and your colleagues.
Resources
Reports
The Truth and Reconciliation Commission Report and the 94 calls to action
Reclaiming Power and Place: The Final Report of the National Inquiry into Missing and Murdered Indigenous Women and Girls
The Native Women's Association of Canada's (NWAC) Missing and Murdered Indigenous Women, Girls, and 2SLGBTQQIA+ People (MMIWG2S) Scorecard (PDF, 3.4 MB)
In Plain Sight: Addressing Indigenous-specific Racism and Discrimination in B.C. Health Care (PDF, 14.5 MB)
Books
Indigenous Writes: A Guide to First Nations, Métis & Inuit Issues in Canada by Chelsea Vowel
Unsettling Canada: A National Wake-Up Call by Arthur Manuel and Grand Chief Ronald M. Derrickson
21 Things You May Not Know About the Indian Act by Bob Joseph
Dancing on our Turtle's Back and As We Have Always Done by Leanne Simpson
The Orange Shirt Story (for younger readers aged 7-10)
Podcasts and Media
Missing and Murdered: Finding Cleo
Stolen: Surviving St. Michael's
Organizations and news
National Council of Indigenous Midwives (formerly NACM)
Ontario Native Women's Association