Report: Bring Birth Home!: Indigenous Midwifery Summit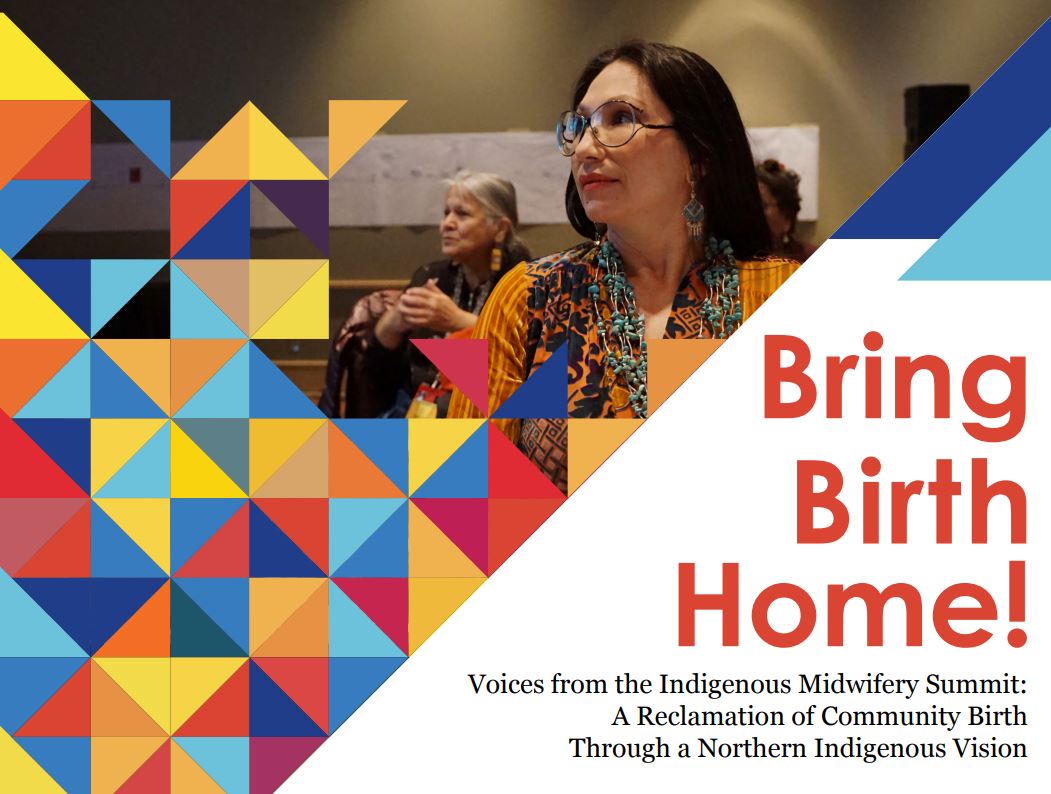 Download the full report here (or click here for the spread layout version).
---
In 2016, the Government of Ontario made a commitment to work together to build reconciliation with First Nations and Indigenous communities, detailed in The Journey Together: Ontario's Commitment to Reconciliation with Indigenous Peoples. When fully implemented, this action plan will transform and rebuild relationships with Indigenous communities. The same year, the Government of Ontario released a call for Indigenous interprofessional primary care teams that could include midwives. The Ministry of Health and Long-Term Care also invested in the Indigenous Midwifery Program, which included developmental grants and practice proposals. The Association of Ontario Midwives recognizes that these initiatives are part of an ongoing commitment to the restoration of Indigenous midwifery and equitable health outcomes for First Nations, Inuit and Métis peoples.
Unfortunately, a significant workforce shortage of Indigenous midwives in Ontario and Canada limits the restoration of Indigenous midwifery. Indigenous midwifery education programs are sorely lacking, especially community-led programs like the model implemented in Six Nations of the Grand River. Expanding education opportunities for Indigenous midwives requires thoughtful planning and collaboration with existing midwifery education programs and Indigenous communities.
Responding to community direction to determine the midwifery needs of northern Indigenous communities and using provincial investments and directives as a springboard to action, the Association of Ontario Midwives envisioned a gathering of Indigenous midwives and community members in northern Ontario. Such a gathering would provide a unique opportunity for participants to learn, share and further their own understanding of Indigenous midwifery. In the spring of 2018, the Association of Ontario Midwives submitted a funding request to the Ontario Ministry of Health and Long-Term Care to support three components:
Work with educational institutions and Indigenous communities to explore opportunities for the development of more Indigenous midwives.
Host an Indigenous midwives gathering in northern Ontario to understand how the Indigenous Midwifery Program (IMP) and the AOM can support the unique challenges of Indigenous midwifery in Far North communities; facilitate sharing and learning among participants by providing a professional development opportunity.
Facilitate an Indigenous Midwifery Advisory Circle to guide the above work, with a membership made up of Indigenous midwives and knowledge keepers.

After receiving support from the Government of Ontario, the Association of Ontario Midwives received many unsolicited offers to further contribute. The Indigenous Midwifery Summit came to fruition because of additional funding and support from Chiefs of Ontario, Grand Council Treaty #3, Nishnawbe Aski Nation, Sioux Lookout First Nations Health Authority and Indigenous Services Canada.
Ultimately, the Indigenous Midwifery Summit brought together Indigenous midwives, Indigenous doulas, First Nations community members, First Nations leadership and their staff, registered midwives, Government of Ontario public servants, and Government of Canada/First Nations and Inuit Health Branch public servants for a two-day meeting in Fort William First Nation territory, Thunder Bay, Ontario.
This Indigenous Midwifery Summit was the first of its kind in recent history. This report arising out of the summit represents the beginning of a province-wide vision to support Indigenous midwifery growth in the North. It is the hope that this report will spark conversations among community members and leaders, Elders and medicine people, stakeholders related to Indigenous midwifery and Indigenous health, Indigenous provincial territorial organizations, Indigenous health knowledge keepers, professions and community based health workers. The report is also intended for government leadership and civil servants to take this report and to use together with Indigenous people, advancing the important work of Indigenous midwives which we know is the heart of the community and a key service in healing Indigenous communities from the effects of colonization.