November 1, 2019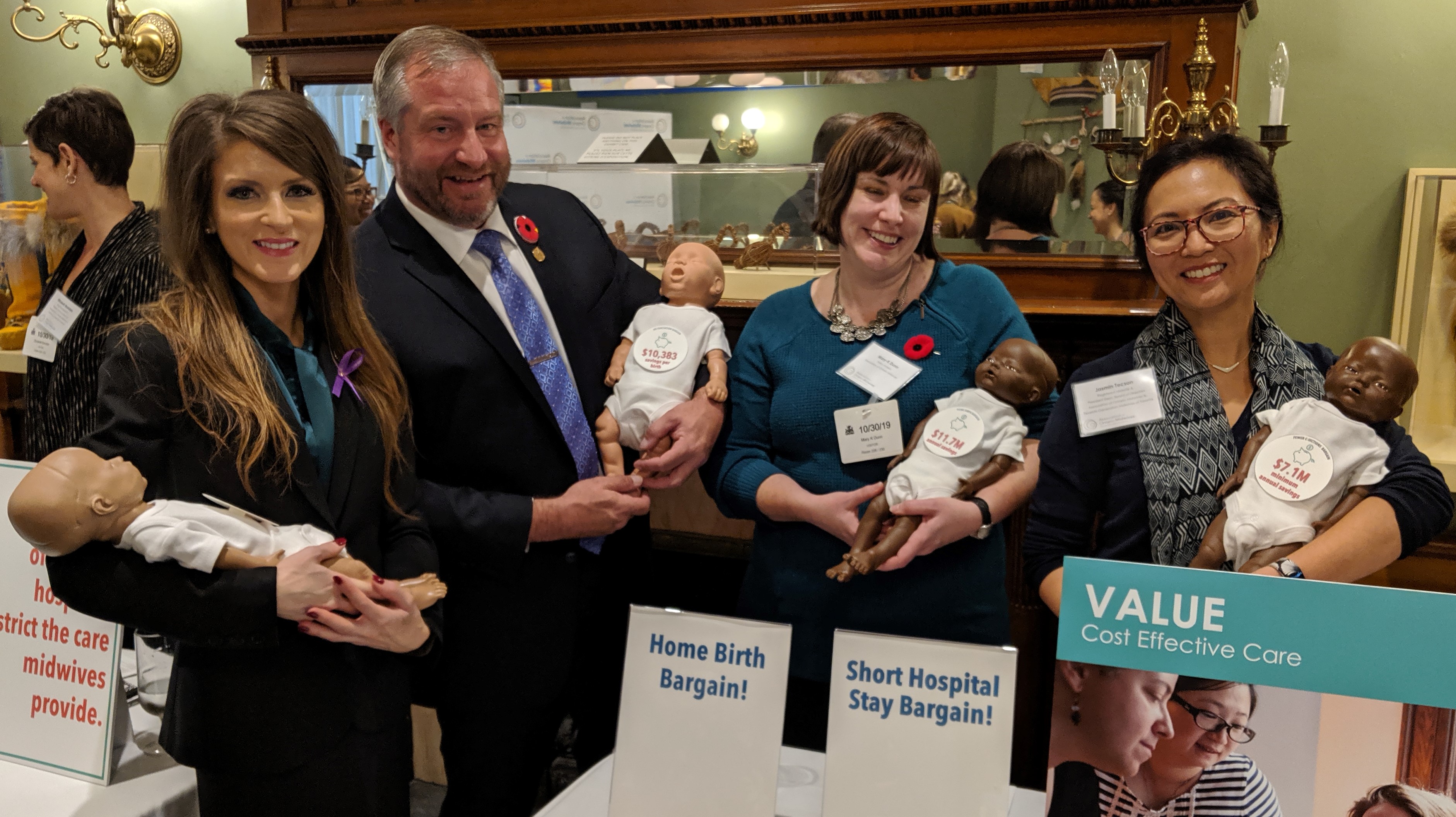 ---
Ontario midwives have been busy this fall, and not just catching babies, negotiating a new contract and navigating the OHT process. Across the province midwives have been engaged in political advocacy – advocating for change in their local communities and raising the profile of midwifery.
Queen's Park Day
On October 30 the Association of Ontario Midwives hosted an educational event at Queen's Park for all the Members of Provincial Parliament to have the opportunity to connect with midwives and clients. This year our theme was the Quadruple Aim of Connected Care, with engaging stations reflecting each of the four aims – Better Outcomes, Better Care, Better Value and Better Provider Experience.
It was a lively event with over 50 MPPs enthusiastically exploring how midwifery can be leveraged in healthcare transformation and learning how to weigh a baby. MPPs were intrigued to learn more about midwifery and many were shocked by the restrictions to scope and privileges at many hospitals. Since the event, the AOM has been following-up with individual MPPs who were keen to know more about the hospital integration in their communities and those who wanted to have further conversations about midwifery's strong outcomes delivered along-side client-centered and cost-effective care.
AOM leadership continued to cultivate important relationships with key political figures and were able to meet some of the new faces at the Legislative Assembly. Thoughtful remarks were shared by Health Minister Christine Elliot, NDP Health Critic France Gélinas and Liberal MPP John Fraser. This was the first time the AOM has hosted Queen's Park Day with a sitting Progressive Conservative government and we were thrilled with the high attendance from the PC party. The New Democratic Party also supported the event in strong numbers and were joined by MPPs from the Liberal and Green parties, as well as a few Independents. Following the event a number of MPPs shared their experiences on social media - check out the AOM feed to see all the activity.  Look for your local MPP! Tweet them a thank you message for coming to the midwifery education day.
The event was such a success because of the midwife volunteers and the practices that supported their participation. A big thank-you to midwives Kate Demers, Vicki Van Wagner, Elizabeth Brandeis, Catherine Cameron and Jasmin Tecson for representing the AOM membership, coordinating midwifery clients to participate and networking with MPPs about these important issues.
Conservative MPP Constituent Advocacy
In conjunction with Queen's Park Day, the AOM encouraged midwifery practice groups from PC ridings to reach out to their conservative MPPs to arrange a meeting to discuss any issues of restrictions – whether it be scope, privileges or midwifery care more generally. Through storytelling, local statistics and evidence – midwives have captivated the support of their MPP and quite a few of these meetings have already yielded positive results! Some of these results have included MPPs:
sending a personal letter to Health Minister Christine Elliot
successfully advocating for a MPG to be included in the OHT process where previously they had been shut out
committing to writing letters of support for a rural birth suite to the local hospital and the province
The AOM has been able to support these local constituent efforts by helping midwives strategize for their meetings, offering feedback for follow-up letters, creating templates for letters and helping to track down data requested by MPPs.
If you would be interested in being involved in future political advocacy work, please contact Leanne Horvath.