Making BORN data entry easier: Resources for midwives and improvements to the BIS

October 19, 2022
Good quality midwifery research and advancements in midwifery funding, policy and practice all begin with good quality data entry. To improve the ease of data entry for midwives, the AOM struck the AOM-BORN Knowledge Translation Task Force (BORN KT TF), an advisory group of midwives with expertise or experience in the BIS. Since 2019 this task force has been involved in the continuous enhancement of the BIS interface and has overseen the development of several new data entry resources now available on the AOM website.
Continuous improvement to the BIS
In April of 2021, the AOM announced that BORN introduced several improvements to the BIS that were recommended by the BORN KT TF. These improvements included the addition of clear language on the timing of encounters, new data elements to capture care provided after a pregnancy loss or termination and the addition of a supportive care data element to capture non-pharmacological pain management techniques during labour. A full breakdown of each midwifery-relevant change from 2021 can be found in on this page of the AOM website (login required) under "Enhancements to the BIS".
Moving forward, the AOM has continued to work with BORN to support BIS enhancements that reflect the unique aspects of midwifery care. In March 2022, the BORN KT TF submitted several new recommendations for BIS improvements. Some of these recommendations were in response to midwives' feedback for further improvements to the newly launched 2021 enhancements. Other recommendations include those specific to the consultations and transfers of care sections of the BIS to improve clarity and ensure proper pre-population of previously entered information. If accepted, these new changes will be implemented in April of 2023.
Further enhancements to the BIS that are currently under review at BORN and are supported by the AOM include the addition of race-based data collection, and the integration of Indigenous Midwifery data collection into the BIS.
Data entry resources
The resources listed below were created in consultation with the BORN KT TF to assist midwives with BORN data entry, now available for midwives and practice administrators on the BORN Data Entry Resources page.
Labour & birth BORN data templates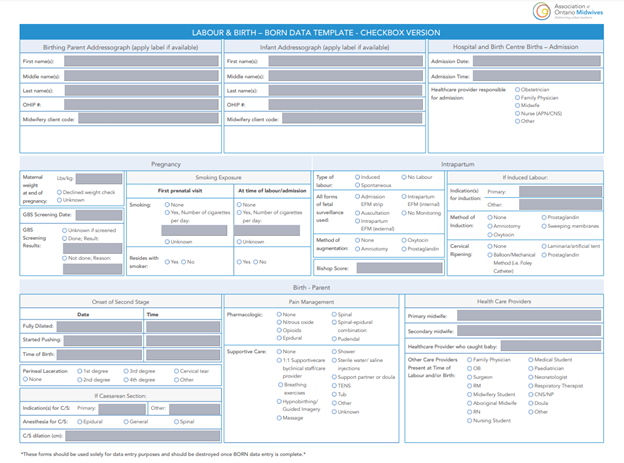 Ever realize you don't have all the BORN-requested labour & birth details when it came time to enter data into the BIS? Try the Labour & Birth BORN Data Templates. These printable and fillable forms are intended to assist midwives in tracking information during labour and birth that is captured at client discharge in the BIS but is not captured in client clinical records (i.e. antenatal records, midwifery labour records and hospital labour and birth summaries). Midwives may use these tools to track client information during the labour/birth or in the early postpartum period to facilitate entering data into the BIS at or prior to client discharge from midwifery care.
Midwives can access three different versions of this resource, including a checkbox version where data can be entered by checking boxes for quick data entry, an open fields version for those that prefer narrative notes, and an electronic medical records (EMR) version that may be copied and pasted into an EMR system.
Due to concerns about protecting personal health information (PHI) (login required), these forms should be used solely for data entry purposes and should be destroyed once BORN data entry is complete.
BORN data entry FAQ
The BORN Data Entry FAQ webpage provides direction and guidance on proper data entry into the BIS based on real concerns raised by midwives. The responses in this FAQ reflect the consensus of the BORN KT TF and staff at BORN Ontario. Example questions include: "Do admission data elements need to be completed for home or clinic births?" and "How do I complete this data entry for the Newborn Hearing Screen if I do not have the result?"
Have a question that is not currently addressed on this page? Email research@aom.on.ca.
Consultations and transfers of care infographic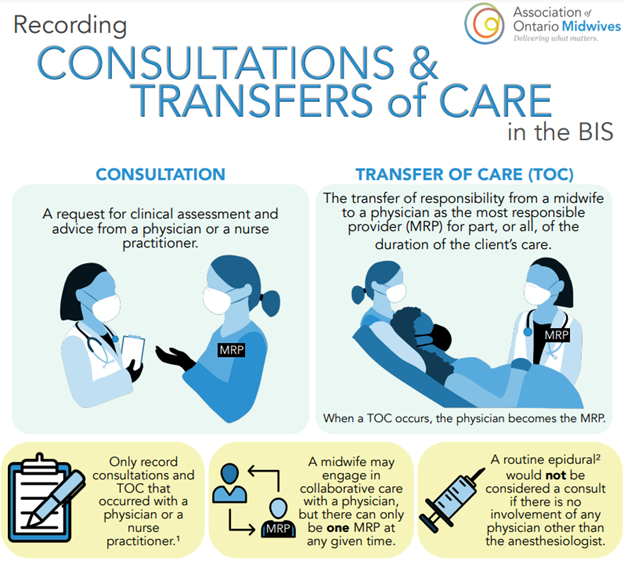 From where to record to what to select, the Consultations and Transfers of Care infographic (PDF, 490 KB) is helpful for introducing new registrants to this sometimes-confusing section of the BIS and for all midwives in need of quick reminders and/or helpful tips on how to ensure their data entry is consistent with other midwives across the province. View the complete infographic for clickable links to additional helpful resources.
Consultations and transfers of care FAQ
Not sure if an epidural is a consultation or where to record induction-related consultations and transfers of care in the BIS? Find these answers and many more in our Consultations and Transfers of Care FAQ page, dedicated to responding to challenges within this specific area of the BIS.
---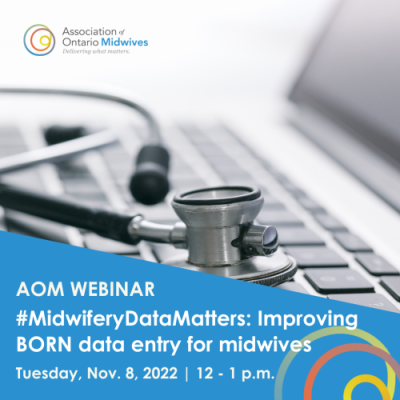 Want to learn more about how to use each of these resources in practice? Watch our recorded webinar, #MidwiferyDataMatters: Improving BORN Data Entry for Midwives (members only; login required), which includes a discussion on each resource, a review of the new guidance for consultations and transfers of care, and a discussion on the changes that have been made at BORN to better integrate midwifery practice and midwifery values into the BIS.