Preventing Medication Errors
From 2000 to 2009, more than 41,000 medication incidents were voluntarily reported to the Institute for Safe Medication Practices Canada (ISMP Canada). The Analysis of Medication Incidents in Ontario found that most incidents were the result of error (more than 90%) and caused no harm (88%). Of those that caused harm, majority were related to drug administration and involved the omission of a dose, the incorrect dose, or the incorrect drug. In obstetrical care, the most common errors relate to oxytocin incidents.  
Poor legibility can result in prescriptions being misread. For example, abbreviations and dose designations such as, QD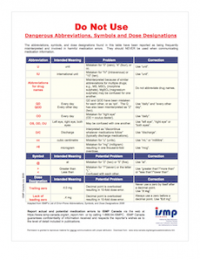 (every day) can be mistaken for QOD (every other day), µg read as mg (1,000 fold difference) and .1 mg as 1 mg (10 fold difference). As a result, the ISMP Canada has developed a Dangerous Abbreviations, Symbols and Dose Designation list. This list was recently reaffirmed by ISMP Canada and additional abbreviations and symbols have been identified to have some association with harm or the potential for harm.  
While midwives report few medication errors, HIROC notes those that are reported reflect similar trends. Midwives should consider developing a protocol to avoid the risk of adverse drug events by referring to the College's standard on Prescribing and Administering Drugs and their hospital's policies. Best practices include:
fostering an environment that supports questioning and clear communication;
completing a fulsome medication history and client assessment, including, clearly documenting any adverse drug reactions;
legibly and accurately writing and documenting  the prescription, considering drug resistance and safety (refer to AOM's RM Rx App);
monitoring and adjusting dosages as appropriate;
implementing independent double checks (i.e., another midwife to verify the drug, concentration, dose) for drugs with higher risk of adverse outcomes in the event of an error;
timely communication of the client's response to the drug with the prescribing health care provider, if ordered by another provider;
consulting as necessary with another health care provider if the drug therapy causes an unanticipated response;
labeling medication and IV solutions in all settings using consistent, legible labels;
safe storage and handling of medication according to the manufacturer's recommendations (e.g., stored separately from specimens, monitoring expiry dates); Refer to the AOM's Template Refrigerator Policy for details (under Infection Prevention & Control)
following public health and blood bank guidelines when disposing of unused or expired products; and
filing an incident report with HIROC following events that result in an actual or potential serious client outcome.
using personalized and numbered prescription pads. If a prescription pad is lost or stolen, it needs to be reported to the Ontario Public Drugs Programme. Contact the AOM for support.