Indigenous Midwifery and Birth Stories
Nipissing First Nation: Indigenous Midwifery Care Close to Home
"Five hundred yards through the bush from my backyard." This is the distance from Justine Sunday and Malaky McLeod-Shabogeshig's home to K'Tigaaning midwifery practice in Nipissing First Nation and the place where baby Amelia was born.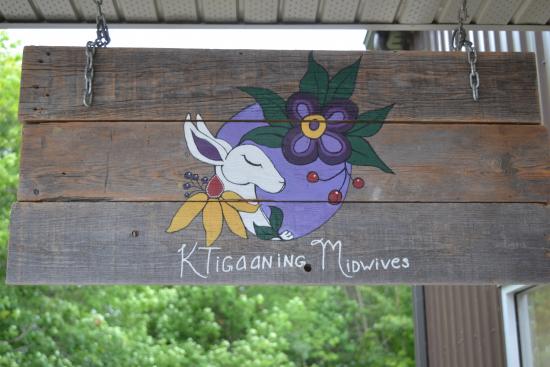 The young couple were expecting their second child and had opted for the care of an Indigenous midwife. Anishinabe registered midwives and mother and daughter team, Carol Couchie and Rachel Dennis Couchie, had recently opened the practice in their home community of Nipissing First Nation, just outside of North Bay. K'Tigaaning Midwives is one of the first group of six Indigenous midwifery practices funded through the Ministry of Health and Long-Term Care. 
At the initial midwifery appointment, Justine got a sense that her care was going to be more personal in comparison to her son's birth. The first indication was when Carol recommended time off, which Justine gladly took. Mom was beyond exhausted; heavy in her second pregnancy as well as being the mother of a toddler, working fourteen hour days and keeping up the household was catching up with her. The respite was very much needed. It also gave her some dedicated time with her 18 month old, Malcolm, before the arrival of his baby sister. 
Labour began at 9:00 pm. A few hours later, as planned, they attended the midwifery clinic. Justine was having pain. The midwives countered it with putting pressure on mom's lower back. Being in the nibi (water) also helped with the pain. Just before 4:00 am, labour began to slow. Shortly thereafter, it was pretty close to a standstill. "No progression. Nothing. The baby was stuck," Justine shared. Throughout, the midwives utilized their knowledge and skill to optimize babies' position; after some stretching and movement during the contractions, Amelia was born at 7:50 am. She was a healthy seven pounds, one ounce. She latched on and began breastfeeding right away. 
When asked about the care received by K'Tigaaning Midwives, Justine made a point to share that the care was immensely different than that of an obstetrician. "One major difference was they let me push when my body was telling me to push." She went on to say that when in hospital during labour, "the obstetrician and nurses were telling me to just push, push, push!!  Because I was pushing so hard, I popped blood vessels in my eye balls, on my face, on my chest and neck." She also experienced perineal trauma during the first delivery. "With Amelia, there were no lacerations; within three days, I felt great.  I didn't even feel sore. With Malcolm, I was sore for weeks and weeks after. They (the midwives) told me things that I needed to know and shared with me more information about increasing breast milk supply, different positioning, better latches … [as well as] things to expect and changes that I would see within my own body after the baby was delivered."  
"The midwives provided more personal care to me and my baby." Justine shared that, "they've been there every step of the way. From having medications delivered to the family home, to helping to facilitate getting her son into daycare and providing home visits every other day. The services provided were more comprehensive." And culturally safe. Carol and Rachel incorporated traditional practices into Justine's care by way of a semaa (tobacco) offering which was acknowledged by the proud Mom. "I'm very appreciative of their effort to provide a safe environment during labour and delivery."    
Soon, Baby Amelia's placenta and that of her brother, Malcolm, will be connected to the earth in ceremony. This helps to ensure their connection to the earth and to help them to know the earth as their mother as well. Part of the ceremony will include the planting of a tree that will grow as the children do – tall and strong, rooted in the earth and their community.        
"I had a birth plan in mind with the baby being born at the birthing clinic. It worked out exactly how I wanted it, too." Justine revealed. "I would definitely go with a midwife experience again. Next time at home. I would want to have my baby at home." 
Nipissing First Nation: Indigenous Midwifery Care Close to Home
With support from the Association of Ontario Midwives, urban, rural and remote Indigenous communities and midwives continue to work toward the restoration and renewal of Indigenous Midwifery within the province. With that support, having an Indigenous or Aboriginal midwife providing culturally safe care, while giving birth at home is now a more viable option for young Indigenous couples like Justine and Malaky and for other First Nations, Inuit and Metis families in Ontario.
Robinson-Superior Treaty Territory: Indigenous Registered Midwife, Lisa Bishop: Supporting Resiliency in Indigenous Parents and Families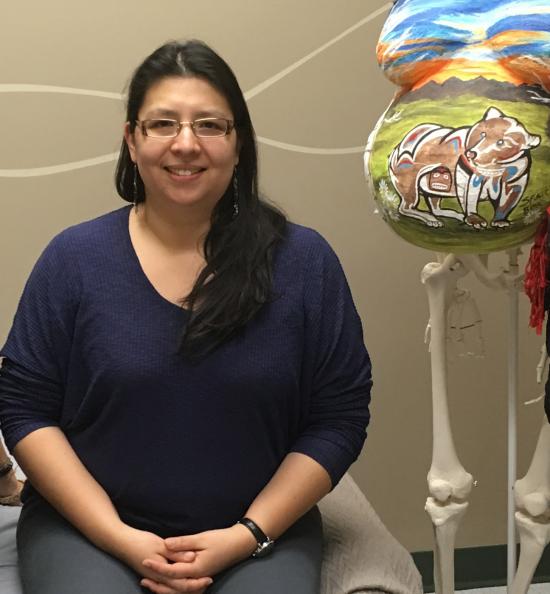 A prenatal exam based out of her vehicle might be the start of a typical day for Lisa Bishop, Indigenous Registered Midwife (RM). Not the norm in midwifery practice in Canada, but, it is one of the ways that Lisa makes it work for her clients in Thunder Bay. She provides prenatal and perinatal health services to Indigenous women where upwards of 60 to 70% of the clients on her roster may be substance involved or in various stages of recovery. 
Lisa moved to Thunder Bay in 2010 to be closer to family and subsequently earned a Masters of Public Health degree. It was through her studies that she began working on research with current practice partner and Obstetrician/Addiction Specialist, Dr. Naana Jumah. Through their research they identified a need for prenatal and perinatal health services for Indigenous women. They also recognized that working in the standard midwifery care model would not meet the needs of these clients. 
In 2016, funding through the Ministry of Health and Long Term Care's Aboriginal (Indigenous) Midwifery Program was announced. Dilico Anishinabek Family Care, an integrated agency that provides services to the Indigenous community within the city of Thunder Bay and surrounding Robinson-Superior Treaty First Nation communities partnered with Lisa to work on and submit a successful application to help fill the gap in Dilico's service region. Their application was approved and in late 2017 they began providing programming and services to community members who may be navigating a pregnancy while being substance involved and/or have further health complications. 
Providing services within a harm reduction model requires reliability and flexibility to meet people where they are at in their lives and in their space. It also requires a caring soul, an open mind and mindful judgement; a term used by BC's First Nations Health Authority Harm Reduction Educators that acknowledges that we are all judgemental in some way and that when we are in it that we remain mindful in our judgement. The work also requires a solid sense of consistency and commitment and it's paying off. The community response to the midwifery services offered by Lisa through Dilico Anishinabek Family Care has been quite significant; so much so, that Lisa has had to make referrals to other midwifery services within the city.    
We sat down to talk about her work and Lisa shared that building trust is the initial focus; trust is hard won and can be lost in a heartbeat. So, Lisa follows the lead of her clients, making sure their first meeting is somewhere familiar and easily accessible for the parent. The next appointment might be a home visit or booked at the maternity centre with Dr. Jumah or wherever it works for the client; and though a typical part of the work of a Registered or Aboriginal midwife, Lisa does not attend births. Attending births would nine times out of ten impede her ability to provide the consistent care that her clients require; and with all of the pregnancies being high risk, all are attended by Dr. Jumah. 
Traditional Indigenous teachings on pregnancy, childbirth and parenting are an important part of the work of a midwife in the Indigenous community; as well as assessing and monitoring of the client during pregnancy. Lisa utilizes opportunities to educate community members about Indigenous parenting practices and about midwifery, including the historical importance of midwives in Indigenous communities; that there were always midwives in our communities – always someone in the community to care for parents and their babies and the family and that historically ceremony and use of natural medicines were always a part of the pregnancy and the birthing process. Extended family members would be present or very close by to help celebrate the birth and take care of the needs of parent and baby, perhaps offering a greeting to the baby in Anishinabemowin (the Anishinabe language) or other Indigenous language, providing a cedar bath, singing songs for the birth and offering prayers for bimaadisiwin (the good life).
Aboriginal and Indigenous Registered Midwives like Lisa Bishop are digging deep and supporting Indigenous parents and families through the restorative work that is required in First Nation urban, rural and remote Indigenous communities in Ontario and across the country. Through her work at Dilico, Lisa offers Indigenous midwifery care and much, much more. Lisa is not only delivering pre-natal and perinatal care in the Robinson-Superior Treaty area, she is helping parents make changes in their lives for their little ones and themselves; also helping to reverse the intergenerational effects of residential schools and leading the restoration of relationships within Indigenous families, starting with the most important relationship and the one that will make the most impact – the bond between a parent and their child. 
Sara Luey's Birthing Experience
Positive stories of birth are essential to building a stronger fabric of trust and support in a community. In this video, Indigenous Midwifery client Sara Luey shares her birthing experience to bring to light the impact of having the right care through one of the most important yet challenging moments of a person's life.