A champion for the people: honouring Elder Dorothy Wynne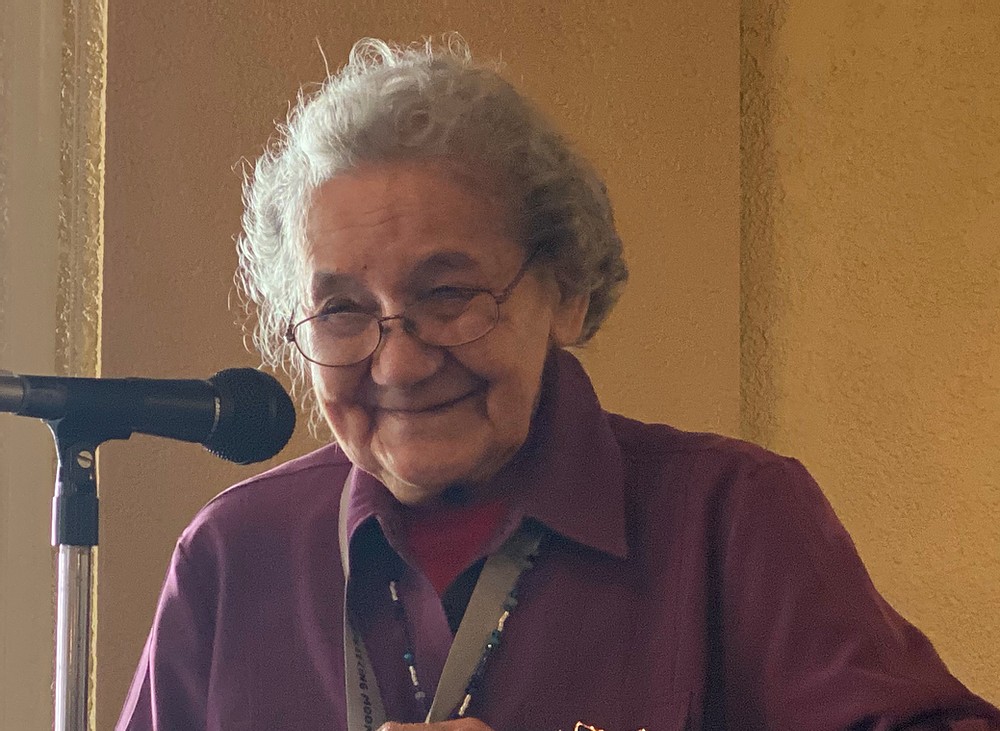 October 20, 2020
*Image courtesy of Ontario Native Women's Association (ONWA)
Elder Dorothy Wynne recently passed into the spirit world.  We humbly share this post in honour of her life and her tireless work on behalf of Indigenous people, including midwives, within this province. 
This piece was originally posted on social media by Christine Roy, RM, from Neepeeshowan Midwives in Attawapiskat, Ontario.  Shared with permission.
---
It is with such sadness and shock that I heard of Dorothy Wynne's passing. She called me just a few weeks earlier to discuss fundraising for a birthing center! Her passion and commitment toward Indigenous midwifery has never lessened. I wanted to share with you something I wrote in her honour last year and presented at the Indigenous Midwifery Gathering held in Thunder Bay. My deepest condolences to Dorothy's family. 
It is now time for others to rise up and pick up that torch!
Honouring Dorothy Wynne                              ​​​​​
February 12, 2019
I only met Dorothy Wynne a couple of years ago. As I was doing the community consultations to start midwifery in James Bay, I was told this woman who sat on WAHA's Board of Health was quite supportive of midwifery. Since we lived 300 kilometres apart, it took a while before we actually met.
Then I met this force of life! Oh! Don't let this frail-looking woman fool you! Her feistiness. Her thirst for social justice. And oh!! That sense of humour completely won me over! So today, I wanted to recognize Dorothy for her life's commitment towards the recognition of Indigenous midwifery, which led to the exemption from the Midwifery Act. 
Dorothy was born on January 21, 1934, in the bush, on her father's trap line in Hannah Bay. Her aunt Susan Gilpin was the midwife.
Dorothy is a member of the Fort Albany First Nation and lives in Moosonee.
She comes from a strong matrilineage: her mother, Clara Wistche, was a midwife in her area (Hannah Bay). Her grandmother, Charlotte Hester, was a midwife in Waskaganish. She shared with me an anecdote of her mom, who once delivered a baby on the train at Moose River Crossing, between Fraserdale and Moosonee!
She married Ken when she was 20 years old, almost 65 years ago.
They have eight children, 15 grand-children (she thinks!), 21 great-grandchildren, and one great-great-grand child.
When asked what made her want to work towards the recognition of midwifery in her community, Dorothy responded:
"My first baby was born at Weeneebayko General hospital with the help of a nurse-midwife. The Cree midwives were not allowed to practice anymore at that time…the doctor didn't make it on time. That midwife did a fine job!
My second was born pre-term, in the back of an ambulance, 10 miles out of Cochrane. I told my husband what to do. He used some silk tassles from my house coat to tie the cord and cut the cord with a jack knife.
Before midwifery talks in Ontario, we started organizing ourselves so we could make crafts to sell to tourists and make a little money. We gave money to others in need. Then I found out about ONWA. That's how I found out about midwifery. I talked to women further north. We had some damned good midwives up there, but I knew they didn't read or write. They would never go south to a midwifery program. So, I fought like hell for an exemption.
Throughout history, we managed to keep our babies alive. A doctor gave me a book: Canadian Mother and Child. I read the whole thing and we used it in the bush. There was a lot of information in there."
She devoted her career and volunteer efforts toward preserving the cultural teachings and traditions of the Cree Nation, as well as advocating for improved and culturally sensitive health and legal services within northern Ontario communities.
She served on the Transitional Council of the College of Midwives. It's goal: to prepare for the proclamation of the Midwifery Act and the Regulated Health Professions Act, and to participate as the self regulatory body for midwifery, in all of the many activities required for the successful implementation of midwifery in the province.
She was particularly active on its Public Education and Equity Committee, where she worked with Katsi Cook, Aboriginal Midwife of the Mohawk Nation of Akwesasne, and others, as one of its mandates was to liaise with Aboriginal organizations and the Aboriginal Health Office. She brought invaluable insight from her culture and life experience living in the remote north to the development of the foundational standards of the profession. She was also instrumental in bringing in the exemption clause for Aboriginal Midwives in the Midwifery Act.
In 2018, a limitation was put on Attawapiskat midwives' scope of practice: there were to be no planned births in the community. We could attend an emergency birth, but not plan for a birth in Attawapiskat. We organized a large meeting involving people at the local, regional and national level. Dorothy was there to remind everyone that it was up to the individual to decide what to do with their body, and nobody could come in and remove that right from them. The outcome was a success for birthing people in Attawapiskat.
Another illustration of how Dorothy gets things achieved: Our local hospital has a horrible 1950's metal bed. While at a meeting, Dorothy brought this issue to everyone's attention, putting forward the first ten dollars. She got the ball rolling… and gathered $1,900 in no time. (At the time of the original writing of this story we were still looking for the remaining 16,000, but happily, the bed has since been replaced. Read the story here.)
While her body might disagree to follow, her mind and determination and feistiness are as strong as ever. May her determination shine its light on our path and inspire us to try and do 1/10 of what she has accomplished.
Accomplishments: 
Education:
Horden Hall Residential school, Moose Factory
Abitibi Canyon School, Fraserdale
Volunteer service/ member of the Board of Directors:
ONWA since 1980, most recently as Honorary member
Noojimawin Health Authority – Toronto
Moose river Heritage and Tourism Association – Moose Factory
Served as secretary of Ka-Nen/Our Children Our Future Program, Thunder Bay
Past President Aboriginal People's Alliance, Cochrane, ON – most recently on Board as elder
Councillor on MooseCreebec Counci of the Cree Nation
Founding member/President of the Kapuskasing Indian Friendship member
Moose Factory General Hospital, now WAHA
Served on Provincial Status of Women's Council
Served on the Transitional Council of the College of Midwives
Served as Chair of Keewaytinok Native legal Services Board of Directors, Moosonee
Served as Board member Children's Aid Society, Kapuskasing
Served as member National Diabetes Association, Canada
Served as Committee member Lumberjack Festival, Kap
Native Language interpretation services with Children's Aid in Kap and Moosonee 
Recognition:
Received the Ontario Medal for Good Citizenship in 2015, in recognition of people who have made exceptional long-term contributions to the quality of life in the province.
---